THE INDUCTEES

5TH CLASS-2017 INDUCTEES


4TH CLASS-2015 INDUCTEES


3RD CLASS-2014 INDUCTEES


2ND CLASS-2013 INDUCTEES


1ST CLASS-2012 INDUCTEES


NOMINATION FORM (PDF)


NOMINATION INFO & FAQS


INDUCTION DINNER INFO


ABOUT THE HALL

MISSION STATEMENT


BOARD OF DIRECTORS


SPONSORSHIP OPPORTUNITIES


VSHOF on FACEBOOK


RELATED LINKS


CONTACT US


HOME PAGE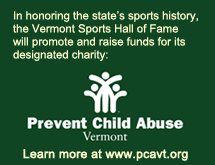 VERMONT SPORTS HALL OF FAME
WELCOME TO THE OFFICIAL WEBSITE OF THE VSHOF
Fifth Class Celebrated at 2017 Vermont Sports Hall of Fame Induction Dinner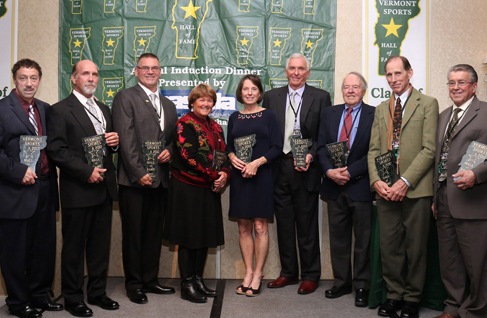 SOUTH BURLINGTON, Vt. -- Thirteen sports legends made up the fifth class to be inducted into the Vermont Sports Hall of Fame at its sold out 2017 induction dinner and delebration presented by Casella at the DoubleTree by Hilton Hotel Burlington in South Burlington on April 22, 2017.
The VSHOF's fifth induction class includes Olympic skiers Betsy Snite Riley of Norwich, Vt. and Lindy Cochran Kelley of Richmond; coaches Missy Foote of Middlebury College, Ed Markey of St. Michael's College and Bernie Cieplicki Sr. of Burlington; the father of U.S. Nordic skiing, John Caldwell as well as Olympic Nordic skier Martha Rockwell, both of Putney; Olympic equestrian gold medalist Tad Coffin of Strafford; Burlington Free Press sportswriter Don Fillion of Shelburne; Golden Gloves champion boxer Tony Robitaille of Newport; hockey and soccer standout Guy Gaudreau of Beebe Plain; mountain climbing pioneer Helmut Lenes of Shelburne; and legendary distance runner Clarence DeMar of South Hero, a multiple winner of the Boston Marathon.
CLICK here for more information and bios of the Class of 2017.
-------
Vermont Sports Hall of Fame Announces New Dates
Annual Induction Dinner and Celebration Moves To the Spring
SOUTH BURLINGTON, Vt, -- In moving its annual dinner and celebration from the fall to the spring, the Vermont Sports Hall of Fame will induct its next class, its fifth, on April 22, 2017. The VSHOF board of directors made the announcement today.
Public nominations for the candidates for the fifth class closed on October 1, 2016, and will close on that date in future years. The board has also set dates for two other future dinners. The sixth class will be inducted April 21, 2018 and the seventh on April 13, 2019.
----
Vermont Sports Hall of Fame Mourns the Loss of Mal Boright
WILLISTON, Vt. -- Mal Boright, a journalist for over 50 years covering all parts of Vermont in print, radio and television, died at his Williston home on March 18, 2016 after battling a short illness. He was 81.
Boright was one of the founders of the Vermont Sports Hall of Fame in 2011 and an original member of its board of directors. Until his death, he was a key member of the VSHOF's nominating advisory committee.
A Celebration of Life will be held at 2:00 p.m. on Saturday April 2, 2016 at the Old Brick Church in the center of Williston (Vt.) village on U.S. Route 2. Parking is available behind the building, and can be accessed from Library Lane. The family asks that in lieu of flowers, donations be made in Mal's name to the Jimmy V. Foundation for cancer research. Click HERE for more information on The V Foundation.
----
Vermont Sports Hall of Fame Honors 2015 Inductees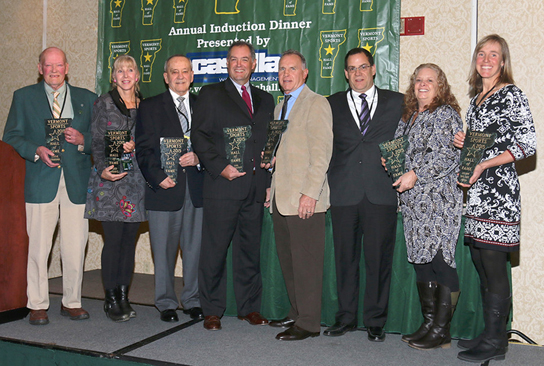 SOUTH BURLINGTON, Vt. -- Outstanding multi-sport athletes, Olympic Nordic skiers, a legendary stock car driver and renowned coaches were inducted into the Vermont Sports Hall of Fame made up the fourth induction class at the annual Vermont Sports Hall of Fame Induction Dinner and Celebration presented by Casella Waste Systems held Saturday, November 14, 2015 at the DoubleTree by Hilton Hotel Burlington. Vermont Lt. Governor Phil Scott was on hand to help with the induction. Click HERE for a photo gallery of the event courtesy of Vermont Sports Images.
Selected by a statewide committee of nearly 50 voters, inductees included Olympic Nordic skier Laura Wilson Todd, stock car legend Bobby Dragon, hockey/baseball standout Kirk McCaskill, multi-sport star and legendary coach Jack Leggett, stellar soccer players Shelley Addison Smith and Carl Christensen, basketball star Jim McCaffrey, and coaching legends Mona Garone, Tom Lawson and Bev Osterberg. The VSHOF also honored longtime Vermont Golden Gloves promoter Ernie Farrar as its David Hakins Award Inductee and Brattleboro ski jump pioneer, the late Fred Harris, as its Historical Pioneer Inductee.
CLICK Here for complete information (bios) on the induction class of 2015.
----
Nominations Are Open For Vermont Sports Hall of Fame Class of 2018
Nominations are open for the Vermont Sports Hall of Fame 2018 induction class. Several of the first four induction classes have come from public nominees. If you wish to nominate someone, please click HERE for a nomination form and instructions to nominate and honor an athlete or a contributor to the Green Mountain State's sports legacy. Full nomination details are on the PDF nomination form and other questions regarding nominees can be found HERE.
The deadline for a nomination is October 1, 2017.
----

----
Vermont Sports Hall of Fame Saddened by the Loss of David Hakins
The Vermont Sports Hall of Fame is saddened by the loss of David Hakins, who passed away on July 23, 2013 after a five-month battle with pancreatic cancer. Dave was part of the initial launch committee of the Vermont Sports Hall of Fame in 2011 and was the first chair of its board of directors. Also the publisher of Vermont Life, it was Dave's energy, vision, inspiration and direction that helped get this project off the ground. Click HERE for appreciations of Dave's life.

----
The Vermont Sports Hall of Fame is a 501 (c)(3) non-profit organization.