THE INDUCTEES

5TH CLASS-2017 INDUCTEES


4TH CLASS-2015 INDUCTEES


3RD CLASS-2014 INDUCTEES


2ND CLASS-2013 INDUCTEES


1ST CLASS-2012 INDUCTEES


NOMINATION FORM (PDF)


NOMINATION INFO & FAQS


INDUCTION DINNER INFO


ABOUT THE HALL

MISSION STATEMENT


BOARD OF DIRECTORS


SPONSORSHIP OPPORTUNITIES


VSHOF on FACEBOOK


RELATED LINKS


CONTACT US


HOME PAGE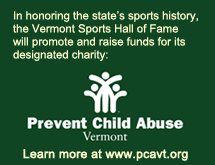 VERMONT SPORTS HALL OF FAME
Tony Adams
Media
Essex Junction
Inducted 2012
Several generations of Vermonters grew up watching Tony Adams present the day's sports news and highlights every evening on WCAX-TV. For 35 years from 1954 to 1989, Adams was the source for local, state and regional sports on his 15-minute segment on the nightly WCAX news hour. Among his most popular sportscasts were those honoring off all-state and championship teams as well as the student-athletes.
Adams began his career at WMUR-TV in Manchester, NH, before joining the WCAX news team. His nightly signoff of "Good Night, Good Sports" attained iconic status.
In addition to his role as the state's premier television sportscaster, Adams served as the voice of the University of Vermont football, basketball and baseball teams for two decades. He handled play-by-play for the St. Michael's College men's basketball team for many seasons.
Adams provided the play-by-play for the New Hampshire-Vermont Maple Sugar Bowl Shrine high school football game and he was the lead announcer on Dartmouth College football for 10 years.
Adams was recognized widely in Northeast New York and Montreal because his evening sportscasts. He served as a backup announcer for several seasons on the Montreal Expos radio network in the 1970s.
Throughout his career, Adams received numerous awards. He was named the Vermont Sportscaster of the Year five times by the National Sportswriters & Sportscaster Association. He was honored with the Eastern Collegiate Athletic Conference/Sports Information Directors Association media ward in 1978 for coverage of intercollegiate athletics in New England. In 1989, the year he retired, Adams was named the Vermont Broadcaster of the Year.
Adams is a member of the University of Vermont Athletic Hall of Fame, the Norwich University Athletic Hall of Fame and the Vermont Principals Association Hall of Fame. He is a charter member of the Vermont Broadcasters Hall of Fame and he has received distinguished service awards from the New England Baseball Coaches Association, the Vermont State Athletic Directors Association and the Vermont Chapter of the National Football Foundation.
A long-time volunteer at the Fletcher Allen Health Care hospital and for the Vermont Chapter of the Alzheimer Association, Adams is a resident of Essex Junction.