THE INDUCTEES

5TH CLASS-2017 INDUCTEES


4TH CLASS-2015 INDUCTEES


3RD CLASS-2014 INDUCTEES


2ND CLASS-2013 INDUCTEES


1ST CLASS-2012 INDUCTEES


NOMINATION FORM (PDF)


NOMINATION INFO & FAQS


INDUCTION DINNER INFO


ABOUT THE HALL

MISSION STATEMENT


BOARD OF DIRECTORS


SPONSORSHIP OPPORTUNITIES


VSHOF on FACEBOOK


RELATED LINKS


CONTACT US


HOME PAGE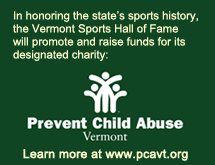 VERMONT SPORTS HALL OF FAME
2014 INDUCTEES
COLCHESTER, Vt. -- A dozen exceptional Vermont legends make up the 2014 induction class of the Vermont Sports Hall of Fame. The VSHOF board of directors made the announcement Monday, September 8, 2014 at the Ross Sports Center at Saint Michael's College.
This year's class features four Olympians from the Summer and Winter Games, a Major League icon on the mound and in the broadcast booth, the nation's top auto road rally racer, the state's leading high school hoops scorer, the hall's first inductees in tennis and golf, a legendary coach along with a nationally recognized stock car racing promoter and the founder of the state's longest outdoor hiking trail.
The VSHOF's third induction class will join 25 others from the first two years at the annual Vermont Sports Hall of Fame Induction Dinner and Celebration presented by Casella Resource Systems on Saturday, November 15, 2014 at the DoubleTree by Hilton Hotel Burlington. Ticket information will be available soon.
2014 Inductees (click on inductee's name for individual bio page):
John Buffum, motor sports, Colchester
Bobby Cochran, Alpine skiing, Richmond
Marilyn Cochran, Alpine skiing, Richmond
Tom Curley, David Hakins Memorial Award (motor sports), Waterbury
Michael D. Gallagher, Nordic skiing/running, Rutland
Ted Hoehn, tennis, South Burlington
Jade Huntington, basketball, Bradford
George 'Doc' Jacobs, contributor (coach/athletic director), Saint Michael's College
Ernie Johnson, baseball, Brattleboro
Mae Murray Jones, golf, Rutland
Judi St. Hilaire, track and field/running, Lyndonville
James Taylor, Historical Inductee (outdoors)