THE INDUCTEES

5TH CLASS-2017 INDUCTEES


4TH CLASS-2015 INDUCTEES


3RD CLASS-2014 INDUCTEES


2ND CLASS-2013 INDUCTEES


1ST CLASS-2012 INDUCTEES


NOMINATION FORM (PDF)


NOMINATION INFO & FAQS


INDUCTION DINNER INFO


ABOUT THE HALL

MISSION STATEMENT


BOARD OF DIRECTORS


SPONSORSHIP OPPORTUNITIES


VSHOF on FACEBOOK


RELATED LINKS


CONTACT US


HOME PAGE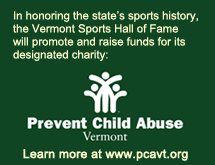 VERMONT SPORTS HALL OF FAME
Ted Hoehn
Tennis
South Burlington/Roxbury, Vt.
Inducted 2014
The first from his sport to be inducted into the Vermont Sports Hall of Fame, Ted Hoehn is recognized as the greatest tennis player in Vermont's sports history and one of the finest in New England.
A Vermont resident since 1968, Hoehn is a 1992 inductee in the New England Tennis Hall of Fame. He has held in the No. 1 ranking in singles and doubles at various times in juniors, men's open and seniors, beginning with 13-and-under boys and extending to 70-and-older men. The 72-year-old is still competing at the highest levels in his 60th year.
The four-year New Hampshire high school state champion for Hanover High from 1957 to 1960, he was a two-time team captain at the University of North Carolina and three-time all-ACC, winning the ACC and Eastern intercollegiate doubles titles twice.
Hoehn has represented the United States in more than 20 international events. He has won five USA Tennis doubles championships as well as the World 50-and-over doubles championship. He has been ranked as high as No. 3 in senior men's singles.
Among his many accomplishments are
-Winning the New England PTA men's open title at age 46;
-24 USTA silver and bronze balls;
-Playing in 5 U.S. Open singles championships, 18 doubles championships and represented New England 10 times in junior nationals;
-Coached tennis and squash at West Point (1965-67);
-Received the 1970 Joseph Dietz Award for contributions to New England tennis;
-Co-founder, owner and director of the Windridge Tennis and Sports Camp in Roxbury, Vt.
-Taught thousands of youngster to play tennis, including some of New England finest players
-Ranked No. 1 in New England in platform tennis three times and won the national 60-and-over mixed doubles title in 2002 with his wife, Nanny;
-Won five Vermont men's open squash championships and represented Boston, Mass. twice in national team championships;