THE INDUCTEES

5TH CLASS-2017 INDUCTEES


4TH CLASS-2015 INDUCTEES


3RD CLASS-2014 INDUCTEES


2ND CLASS-2013 INDUCTEES


1ST CLASS-2012 INDUCTEES


NOMINATION FORM (PDF)


NOMINATION INFO & FAQS


INDUCTION DINNER INFO


ABOUT THE HALL

MISSION STATEMENT


BOARD OF DIRECTORS


SPONSORSHIP OPPORTUNITIES


VSHOF on FACEBOOK


RELATED LINKS


CONTACT US


HOME PAGE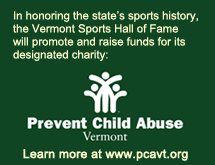 VERMONT SPORTS HALL OF FAME
Board of Directors
Nini Anger, Shelburne, Vt. (nini.anger@gmail.com)
Bruce Bosley, (vice chair and comm.), So. Burlington, Vt. (bosleyb@comcast.net)
Ed Bride, Barre, Vt. (ebride@pcavt.org)
Marilyn Cochran, Richmond, Vt. (cochranmebc@yahoo.com)
Mike Donoghue, So. Burlington, Vt. (vermontnewsfirst@gmail.com)
Jack Healey, Rutland, Vt. (jhealey@northeastsportsnetwork.com)
Sarah Howrigan (secretary), St. Albans, Vt. (sarah.howrigan@hilton.com)
Chris Kenny, Essex Jct., Vt. (ckenny@smcvt.edu)
Justin Martin, Essex Jct., Vt. (tut1975@hotmail.com)
Rick Milliken (tres.), Jericho, Vt. (rickmilliken@doubletreevt.com)
Boston Neary, Shelburne, Vt. (boston_n@usa.net)
Alan Rubel, Barre, Vt. (alan.rubel@proforma.net)
Ted Ryan (nominations), Shelburne, Vt. (tedryanvt@aol.com)
Barry Stone (chair), So. Burlington, Vt. (barrystonesb@gmail.com)
Emeritus:
Walter Bruska, Shelburne, Vt.
In Memoriam:
Mal Boright, Newport and Williston, Vt.
David Hakins, Rutland and So. Burlington, Vt.
General Inquiries and nomination questions: vermontsportshall@gmail.com
Sponsorship Inquiries: contact Barry Stone: barrystonesb@gmail.com
Nominating Advisory Committee:
Alex Abrami, Essex, Vt.
John Bennett, Shelburne, Vt.
Tim Brown, Bennington, Vt.
Kevin Cieplicki, South Burlington, Vt.
Barbara Cochran, Starksboro, Vt.
Tom Conti, St. Johnsbury, Vt.
Tom Haley, Rutland, Vt.
Jade Huntington, St. Johnsbury, Vt.
Carleton Laird, Rutland, Vt.
Bill Murphy, Bellows Falls, Vt.
Lawrence Pyne, Middlebury, Vt.
Justin St. Louis, West Addison, Vt.
David Smallwood, Essex Junction, Vt.
Libby Smith, Essex, Vt.
Dana Sprague, Brattleboro, Vt.
Bruce Wheeler, Westmore, Vt.
Ken Wells, Newport, Vt.
Updated: June 1, 2017