THE INDUCTEES

5TH CLASS-2017 INDUCTEES


4TH CLASS-2015 INDUCTEES


3RD CLASS-2014 INDUCTEES


2ND CLASS-2013 INDUCTEES


1ST CLASS-2012 INDUCTEES


NOMINATION FORM (PDF)


NOMINATION INFO & FAQS


INDUCTION DINNER INFO


ABOUT THE HALL

MISSION STATEMENT


BOARD OF DIRECTORS


SPONSORSHIP OPPORTUNITIES


VSHOF on FACEBOOK


RELATED LINKS


CONTACT US


HOME PAGE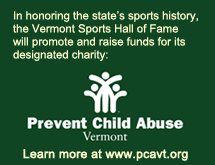 VERMONT SPORTS HALL OF FAME
5TH CLASS --2017 INDUCTEES
Vermont Sports Hall of Fame To Induct 12 Members in its Class of 2017
COLCHESTER, Vt. -- Olympic medalists, legendary coaches, sports pioneers, a champion boxer, a standout football player, a star hockey player and a chronicler of Vermont's athletic scene make up the Vermont Sports Hall of Fame's Class of 2017. The VSHOF made its announcement Jan. 31, 2017 at the Ross Sports Center at Saint Michael's College.
A dozen new members, plus one member of the previous class, will be inducted at the Vermont Sports Hall of Fame Dinner and Celebration presented by Casella on Saturday, April 22, at the DoubleTree by Hilton Hotel Burlington in South Burlington. Ticket information will be available soon on www.vermontsportshall.com.
Inductees were selected from a field of nominees by a voting committee consisting of previous inductees, members of the VSHOF board of directors, and advisors from all corners of Vermont. This year's class will bring membership in the Vermont Sports Hall of Fame to 61.
Proceeds from the annual VSHOF Dinner and Celebration benefit the Hall's designated charity, Prevent Child Abuse Vermont. In its first five years the VSHOF has raised over $10,000 for PCAV.
The 2017 Inductees (click on inductee's last name for complete bio):
John Caldwell, Nordic skiing, Putney
Bernie Cieplicki Sr., basketball (athlete/coach), Burlington
Lindy Cochran Kelley, Alpine skiing, Richmond
Tad Coffin, equestrian, Stratford
Clarence DeMar, distance running, South Hero (Historical Pioneer Inductee)
Don Fillion, media-sportswriter, Shelburne/Montgomery
Missy Foote, field hockey/lacrosse, Middlebury/Middlebury College
Guy Gaudreau, ice hockey/soccer, Beebe Plain
Helmut Lenes, mountain climbing/skiing, Shelburne (David K. Hakins Inductee)
Ed Markey, basketball/administrator, South Burlington/St. Michael's College
Tony Robitaille, boxing, Newport
Betsy Snite Riley, alpine skiing, Norwich
Martha Rockwell, Nordic skiing, Putney (2005 Inductee)