THE INDUCTEES

5TH CLASS-2017 INDUCTEES


4TH CLASS-2015 INDUCTEES


3RD CLASS-2014 INDUCTEES


2ND CLASS-2013 INDUCTEES


1ST CLASS-2012 INDUCTEES


NOMINATION FORM (PDF)


NOMINATION INFO & FAQS


INDUCTION DINNER INFO


ABOUT THE HALL

MISSION STATEMENT


BOARD OF DIRECTORS


SPONSORSHIP OPPORTUNITIES


VSHOF on FACEBOOK


RELATED LINKS


CONTACT US


HOME PAGE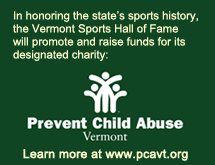 VERMONT SPORTS HALL OF FAME
Guy Gaudreau
Beebe Plain
Ice Hockey/Soccer
Inducted 2017
One of the state's most prolific high school forwards in both ice hockey and soccer, Guy Gaudreau went from North Country Union High in Newport to star in both sports at Norwich University.
In soccer he led North Country to two straight D-I state titles in 1974-75 and graduated as the all-time Falcons leader in goals (63) and assists (36). He was named first team All-State three straight years and twice to the All-New England Team.
He starred on the pitch for Norwich for four seasons (1976-79), finishing his career with 30 goals, second all-time when he graduated. He was the team MVP and an All-New England selection as a senior.
He had similar impressive numbers on the ice for the Falcons, leading the fledgling program to become a state power. His final three years were North Country's first on the ice and he scored 118 goals in three years including 45 as a junior and 51 as a senior. He led the third-year Falcons to a 15-0-0 regular season mark before falling to BFA St. Albans in the D-I 1976 title game. He was twice named a Vermont First Team All-Star.
He excelled for four years on the ice at ECAC D-II Norwich in a time when few Vermont high school players made the jump to college hockey. He was the Cadets top scorer in three of his four seasons and like in soccer, as a senior he was the team's MVP and an ECAC D-II All-Star. He finished his career with 144 points on 88 goals and 56 assists, graduating among the program's all-time leaders including its top-five in points.
A four-time VSSA Athlete of the Month winner, he was named to the Norwich Athletic Hall of Fame in 1990. He is the first student-athlete from Norwich University to be induced in the VSHOF.
Gaudreau and his family settled in southern New Jersey where he has served as a longtime rink manager and coach. He spent 11 seasons as the head boy's hockey coach at Gloucester Catholic High School. Both of his sons, Johnny and Matthew, went on to excel in Division I college hockey at Boston College. Johhny went on to star in the NHL (Calgary Flames) while Matthew began his pro career in the AHL in 2017.