THE INDUCTEES

5TH CLASS-2017 INDUCTEES


4TH CLASS-2015 INDUCTEES


3RD CLASS-2014 INDUCTEES


2ND CLASS-2013 INDUCTEES


1ST CLASS-2012 INDUCTEES


NOMINATION FORM (PDF)


NOMINATION INFO & FAQS


INDUCTION DINNER INFO


ABOUT THE HALL

MISSION STATEMENT


BOARD OF DIRECTORS


SPONSORSHIP OPPORTUNITIES


VSHOF on FACEBOOK


RELATED LINKS


CONTACT US


HOME PAGE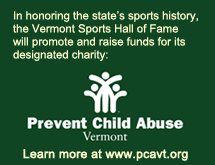 VERMONT SPORTS HALL OF FAME
Tony Robitaille
Newport
Boxing
Inducted 2017
For four years in the late '70s and early '80s, Tony Robitaille dominated the Vermont and New England Golden Gloves heavyweight boxing scenes. He won four consecutive state titles at Memorial Auditorium in Burlington, backing up each with a regional title at the New England Golden Gloves in Lowell, Mass.
A former state champion in two track and field throwing events while at North Country Union High School, Robitaille reached the national Golden Gloves quarterfinals in 1979 and the semifinals a year later. He received the Rocky Marciano Award as the best amateur heavyweight in New England and at one time was ranked the No. 2 amateur heavyweight nationally.
He lost a disputed split-decision to a young Mike Tyson, the future heavyweight champion of the world, in an amateur bout and later served as a sparring partner for Tyson. Robitaille also won an Empire State Games title as well as New England and Adirondack championships before closing out his amateur career with a 47-7 record.