THE INDUCTEES

5TH CLASS-2017 INDUCTEES


4TH CLASS-2015 INDUCTEES


3RD CLASS-2014 INDUCTEES


2ND CLASS-2013 INDUCTEES


1ST CLASS-2012 INDUCTEES


NOMINATION FORM (PDF)


NOMINATION INFO & FAQS


INDUCTION DINNER INFO


ABOUT THE HALL

MISSION STATEMENT


BOARD OF DIRECTORS


SPONSORSHIP OPPORTUNITIES


VSHOF on FACEBOOK


RELATED LINKS


CONTACT US


HOME PAGE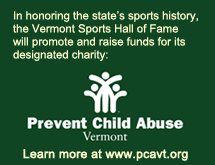 VERMONT SPORTS HALL OF FAME
Missy Foote
Bridport/Middlebury College
Coach--lacrosse/field hockey
Inducted 2017
Foote spent close to 40 years at Middlebury College as a coach and as an administrator before retiring in 2015. She is most noted for her success as the Panthers field hockey and women's lacrosse coach.
She spent 34 years as the Panthers women's lacrosse coach leading the team to 14 straight NCAA Division III Final Fours. Her lax teams won five NCAA titles (all since 1997) including four perfect seasons (1999, 2001, 2002 and 2004), seven NESCAC titles, two ECAC titles (prior to 1997). Her 422 career wins are second all-time among Division III coaches, while she ranks third among coaches throughout all divisions (422-114-1).
The 2001 season marked Foote's 21st and final year as head coach of the Panthers field hockey program. She ended her career with a record of 180-95-12 for a .648 winning percentage. Her most successful season came in 1998 when she led the team to a 17-1 record and its first NCAA Championship. She led the team to NCAA Tournament appearances in 1994 and 1996. During her reign, the team made six ECAC Tournament appearances and captured a pair of ECAC crowns in 1993 and 1997. She was named the Division III Regional and National Coach of the Year in 1994 and 1998.
She also served on the NCAA D-III Women's Lacrosse Committee, the IWLCA All-American Committee and the Tewaaraton Award committee for national player of the year. She also served many years as an assistant athletic director and senior women's administrator at Middlebury College as well as the director of physical education. She also served as the head coach of women's basketball and swimming.
Foote is a member of the National Lacrosse Hall of Fame, the New England Lacrosse Hall of Fame, the Ward Melville (N.Y.) High School Hall of Fame and the U.S. Lacrosse Hall of Fame.