THE INDUCTEES

5TH CLASS-2017 INDUCTEES


4TH CLASS-2015 INDUCTEES


3RD CLASS-2014 INDUCTEES


2ND CLASS-2013 INDUCTEES


1ST CLASS-2012 INDUCTEES


NOMINATION FORM (PDF)


NOMINATION INFO & FAQS


INDUCTION DINNER INFO


ABOUT THE HALL

MISSION STATEMENT


BOARD OF DIRECTORS


SPONSORSHIP OPPORTUNITIES


VSHOF on FACEBOOK


RELATED LINKS


CONTACT US


HOME PAGE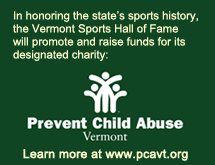 VERMONT SPORTS HALL OF FAME
Clarence DeMar
South Hero
Distance Running
Inducted 2017
Winner of the Boston Marathon a record seven times and an Olympic Bronze Medalist in the event, Clarence DeMar is the 2017 Historical Pioneer Inductee. DeMar spent his teenage years running the back roads of Grand Isle and South Hero, his hometown at the time.
He went from South Hero to UVM joining the track and field and cross country teams as a member of the class of 1911. The UVM track team at that time was led by Albert Gutterson, UVM '12, a fellow member of the VSHOF.
He won three letters at UVM before transferring to Harvard, when his family resettled in Boston.
DeMar went on to run the Boston Marathon 34 times, winning the premier marathon race seven times, his first in 1911 and his last in 1930. DeMar also was a three-time competitor in the Olympic Games who finished 12th in the marathon in the 1912 Stockholm Olympics, won the bronze medal at the 1924 Paris Olympics and finished 27th in the 1928 Amsterdam Olympics. He also won the USA National Marathon Championship four times in the 1920s.
Know as 'Mr. Marathon' and Clarence 'DeMarathon', another incredible statistic in DeMar's running accomplishments is that he participated in over 1,000 meets during his 44 years associated with track and field and road running.
He is a member of the U.S. Track and Field Hall of Fame, the University of Vermont and Keene State College athletic halls of fame, the National Distance Running Hall of Fame and the Road Runners Club of America Hall of Fame. After his seventh and final victory in the Boston Marathon in 1930, he was selected as that year's winner of the Sullivan Award, given to the nation's top amateur athlete.
Sports Illustrated selected DeMar as one of the Top 50 Vermont athletes of the 20th Century in December of 1999. He ranked eighth among the Top 50 Vermonters.
Since 1983 a road race has been run in his honor in the Lake Champlain Islands. DeMar is the first inductee to the Vermont Sports Hall of Fame from Grand Isle County.