THE INDUCTEES

5TH CLASS-2017 INDUCTEES


4TH CLASS-2015 INDUCTEES


3RD CLASS-2014 INDUCTEES


2ND CLASS-2013 INDUCTEES


1ST CLASS-2012 INDUCTEES


NOMINATION FORM (PDF)


NOMINATION INFO & FAQS


INDUCTION DINNER INFO


ABOUT THE HALL

MISSION STATEMENT


BOARD OF DIRECTORS


SPONSORSHIP OPPORTUNITIES


VSHOF on FACEBOOK


RELATED LINKS


CONTACT US


HOME PAGE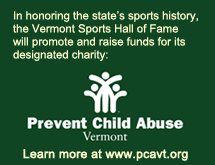 VERMONT SPORTS HALL OF FAME
Lindy Cochran Kelley
Richmond
Alpine Skiing
Inducted 2017
The youngest of Mickey and Ginny Cochran's four outstanding ski siblings, Lindy Cochran Kelley had great success racing at the collegiate, national and Olympic level.
She won the U.S. national slalom championship in 1973 and the giant slalom in 1976. Kelley was the top American finisher in the slalom (sixth) and giant slalom (12th) in the 1976 Olympic Winter Games in Innsbruck, Austria.
Kelley then competed for three years at the University of Vermont where she was a 1979 and 1980 All-American.
She left the U.S. Ski Team in 1978 and graduated from UVM in 1982, receiving the 1980 Broderick Award for outstanding achievement in skiing. In the mid-1990s, Kelley co-developed the Ski Tots Program and coached at the Cochran's Ski Area. All three of her children, a girl and two boys, have skied at the world cup level.
In 1992, she was inducted into the UVM Athletic Hall of Fame, the fifth member of her family so selected. In 2004, Kelley, her parents, her brother, Bobby, and sisters Marilyn and Barbara Ann, were inducted in the Vermont Ski and Snowboard Hall of Fame's inaugural class. She was inducted in the Vermont Alpine Racing Association Hall of Fame in 2005.
In 1999 Sports Illustrated ranked her 23rd in its of the Top 50 Greatest Sports Figures from the State of Vermont during the 20th century. She joins her siblings Barbara (VSHOF '13), Marilyn (VSHOF '14) and Bobby (VSHOF '14) in the Vermont Sports Hall of Fame.