THE INDUCTEES

5TH CLASS-2017 INDUCTEES


4TH CLASS-2015 INDUCTEES


3RD CLASS-2014 INDUCTEES


2ND CLASS-2013 INDUCTEES


1ST CLASS-2012 INDUCTEES


NOMINATION FORM (PDF)


NOMINATION INFO & FAQS


INDUCTION DINNER INFO


ABOUT THE HALL

MISSION STATEMENT


BOARD OF DIRECTORS


SPONSORSHIP OPPORTUNITIES


VSHOF on FACEBOOK


RELATED LINKS


CONTACT US


HOME PAGE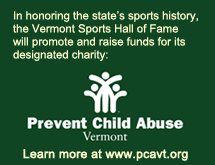 VERMONT SPORTS HALL OF FAME
Helmut Lenes
Shelburne
Mountain climbing/outdoors
Inducted 2017
A world class innovator in outdoor sports, Helmut Lenes is the David K. Hakins Inductee for his contributions as a business leader in exceptional promotion and development of sports, athletics and recreation in the state of Vermont. This inductee honors Hakins, a founding member of the VSHOF, who passed away in 2013.
Lenes built a reputation as a mountain guide and ski instructor in his native Austria before he moved to Vermont in 1968. Lenes eventually established Climb High in Shelburne, a company that promoted mountain and rock climbing as well as other outdoor pursuits. Lenes built a 28-foot rock-climbing wall at Climb High and provided free usage and classes. Countless Vermonters began participating in the sport due to his efforts.
Among his feats as a climber while living in Austria and Vermont are scaling Denali (Mount McKinley) twice, Mount Rainier, the Grant Tetons, the top of the Himalayas, Gasherbrum and the Matterhorn, and the North Face of The Eiger in a record time of one day.