THE INDUCTEES

5TH CLASS-2017 INDUCTEES


4TH CLASS-2015 INDUCTEES


3RD CLASS-2014 INDUCTEES


2ND CLASS-2013 INDUCTEES


1ST CLASS-2012 INDUCTEES


NOMINATION FORM (PDF)


NOMINATION INFO & FAQS


INDUCTION DINNER INFO


ABOUT THE HALL

MISSION STATEMENT


BOARD OF DIRECTORS


SPONSORSHIP OPPORTUNITIES


VSHOF on FACEBOOK


RELATED LINKS


CONTACT US


HOME PAGE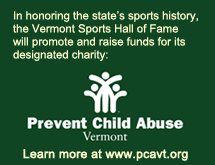 VERMONT SPORTS HALL OF FAME
Ed Markey
South Burlington/Saint Michael's College
Basketball- athlete/coach/administrator
Inducted 2017
Ed Markey came to Vermont as a standout student-athlete at Saint Michael's College in the late 1940s, and went on to serve his alma mater as a legendary coach in the 1960s and 70s to his time as the school's athletic director concluding in 1997.
In addition to his standout career as a competitor, while he was a coach and administrator at Saint Michael's, the campus saw tremendous development in its athletic facilities including the building of the Ross Sports Center and the Tarrant Student Fitness Center. He also oversaw the development of women's sports at the school.
He was a basketball and baseball captain for the Purple Knights graduating in 1951. After a stint in the U.S. Army he returned to SMC as an assistant hoop coach for VSHOF inductee Doc Jacobs in 1955-56, assuming the head coaching position for the 1963-64 campaign. He recorded a 134-86 record from then until 1972, leading the team to the NCAA College Division Tournament three times including a trip to the National Final Four in 1965 and the Sweet 16 in 1967.
He was named Vermont Coach of the Year in 1964, 1965, and 1967, and was UPI's Division II Coach of the Year in 1965 and 1967. Markey also coached the SMC baseball team for 19 seasons.
Named Saint Michael's Director of Athletics in 1968, he was a NCAA cornerstone in New England until retirement in 1997. He was President of the New England College Athletic Conference, Chairman of the NCAA Division II Men's Basketball Selection Committee, a longtime member of the ECAC Executive Council, and recipient of the Julian Award for exemplary service in New England Athletics.
Markey is a member of the Saint Michael's College Athletic Hall of Fame, the Northeast-10 Conference Hall of Fame, the National Association of Collegiate Directors of Athletics (NACDA) Hall of Fame and the New England Basketball Hall of Fame.