THE INDUCTEES

5TH CLASS-2017 INDUCTEES


4TH CLASS-2015 INDUCTEES


3RD CLASS-2014 INDUCTEES


2ND CLASS-2013 INDUCTEES


1ST CLASS-2012 INDUCTEES


NOMINATION FORM (PDF)


NOMINATION INFO & FAQS


INDUCTION DINNER INFO


ABOUT THE HALL

MISSION STATEMENT


BOARD OF DIRECTORS


SPONSORSHIP OPPORTUNITIES


VSHOF on FACEBOOK


RELATED LINKS


CONTACT US


HOME PAGE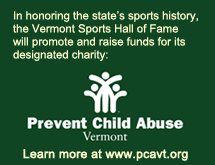 VERMONT SPORTS HALL OF FAME
Bernie Cieplicki Sr.
Burlington
Basketball (athlete/coach)
Inducted 2017
The patriarch of one of the top basketball families in the state of Vermont, Cieplicki was a standout athlete at Saint Michael's College where he scored 1,000 career points and went to be one of the top high school coaches in the state at Rice Memorial High in South Burlington. He also left his mark on youth basketball in Vermont as one of the founders of the state's widely successful CYO basketball program.
He was the head boy's hoop coach at Rice Memorial from 1960 to 1978 leading the Little Indians to nine league titles and three Class L (now Division I) championships in 1968, 1970 and 1971. The three state titles came in six-year stretch where he led Rice to the championship game four straight years and five times in six seasons. He finished with 309 victories.
He also coached the Rice baseball team for two seasons, twice reaching the title game while winning the state championship in 1964, the program's lone title until 2014. He left Rice to become the principal at Winooski High School in the early 80s.
In addition to bringing CYO basketball to the state in the early 1960s, he also founded the successful Burlington Summer Basketball League and was the basketball event coordinator for the Burlington International Games.
His three sons, including VSHOF inductee Keith Cieplicki, were standout high school and college players, and also went on to become excellent coaches. So far at least three of his grandchildren have gone on to play college basketball.
Prior to his coaching career, Cieplicki came to Vermont to be a student-athlete at Saint Michael's where he was a two-time basketball captain and a three-time all-state selection. He graduated in 1957 as the program's all-time leading scorer at the time with 1,139 points. He helped the Purple Knights to the NCAA College Division New England Regional title in his final two seasons.
Cieplicki is a member of the Rice Memorial High School Athletic Hall of Fame, the New England Basketball Hall of Fame, the Saint Michael's College Athletic Hall of Fame, the Vermont Principal's Association Hall of Fame and the Vermont Basketball Coaches Hall of Fame. The basketball court at Rice's Hammond Gym is named in his honor.