THE INDUCTEES

5TH CLASS-2017 INDUCTEES


4TH CLASS-2015 INDUCTEES


3RD CLASS-2014 INDUCTEES


2ND CLASS-2013 INDUCTEES


1ST CLASS-2012 INDUCTEES


NOMINATION FORM (PDF)


NOMINATION INFO & FAQS


INDUCTION DINNER INFO


ABOUT THE HALL

MISSION STATEMENT


BOARD OF DIRECTORS


SPONSORSHIP OPPORTUNITIES


VSHOF on FACEBOOK


RELATED LINKS


CONTACT US


HOME PAGE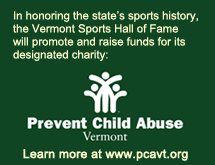 VERMONT SPORTS HALL OF FAME
John Caldwell
Putney
Nordic Skiing
Inducted 2017
Putney's John Caldwell is known as the "Father, Grandfather and Guru" of Nordic Skiing in the United States, competing and coaching at the national and international level for close to 50 years.
He represented his country as a skier in the 1952 Olympics in Oslo, Norway, where he raced in the men's 18-kilometer and finished 22nd in the men's individual combined, which combined skiing and jumping.
Prior to his Olympic experience, Caldwell competed in downhill, slalom and jumping at Dartmouth College, becoming a four-even skier for the Big Green when he added cross country in his sophomore year. He was a teach and coach at Lyndon Institute after graduating from Dartmouth and in May 1951 learned he had made the 1952 Olympic team.
A graduate of The Putney School, Caldwell returned to teach and coach at his alma mater where he developed a pipeline of outstanding skiers for the U.S. teams. He served as an Olympic coach in 1968, 1972, 1980 and 1984. Among the national and Olympic team members he tutored were Bill Koch (VSHOF '12), Mike Gallagher (VHSOF '14), Martha Rockwell (VSHOF '15), Marry Heller, Tim Caldwell, Larry Damon, Ned Gillette and Jim Galanes.
Caldwell served as the coach of the U.S. Nordic ski teams from 1965 to 1972 as well as the U.S. Olympic and World Championship teams. Caldwell coached the U.S. FIS cross country team in 1989. Caldwell was the U.S. coach when Koch became the first U.S. men's skier to win an Olympic medal in Nordic skiing, a silver in 1976. His son, Tim, was a four-time Olympian and his granddaughter, Sophie, represented the U.S. in the 2014 Winter Games.
In addition to his skiing and coaching, Caldwell is the author of eight editions of "The Cross-Country Ski Book" as well as a technical book on the sport, "Caldwell on Cross-Country". He was a founder of the New England Nordic Ski Association, serving as its first president for six years.
Caldwell was inducted into the U.S. Ski and Snowboard Hall of Fame in 1983 and into the Vermont Ski and Snowboard Hall of Fame in 2005. He is also a member of Dartmouth's Wearers of the Green, essentially the school's athletic hall of fame.