THE INDUCTEES

5TH CLASS-2017 INDUCTEES


4TH CLASS-2015 INDUCTEES


3RD CLASS-2014 INDUCTEES


2ND CLASS-2013 INDUCTEES


1ST CLASS-2012 INDUCTEES


NOMINATION FORM (PDF)


NOMINATION INFO & FAQS


INDUCTION DINNER INFO


ABOUT THE HALL

MISSION STATEMENT


BOARD OF DIRECTORS


SPONSORSHIP OPPORTUNITIES


VSHOF on FACEBOOK


RELATED LINKS


CONTACT US


HOME PAGE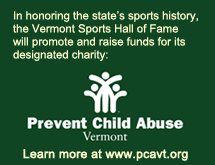 VERMONT SPORTS HALL OF FAME
Bobby Cochran
Richmond
Alpine skiing
Inducted 2014
One of the four world class 'Skiing Cochran' siblings, Bobby Cochran was a member of the U.S. National Alpine Ski Team for six years before moving to the World Professional Tour. He had success at home and in Europe and competed in the 1972 Olympic Games in Sapporo.
He won the national junior championship in giant slalom as a high school freshman in 1967 and accumulated seven national titles between 1969 and 1973. He also won the NCAA downhill championship in 1973 while skiing for the University of Vermont.
In 1971, Cochran won the prestigious Roch Cup downhill in the CanAm series. He skied all three alpine events for the U.S. at the 1972 Olympics in Sapporo, Japan recording an American-best eighth place finish in the downhill.
He reached the podium in three of the four skiing disciplines over his FIS career, including a victory in the Hahnenhamm combined event in Kitzbuhel, Austria. From 1970 to 1973, Cochran turned in 22 top ten performances in World Cup events, including four podium finishes.
His best season was in 1973 when he became the first U.S. male to win a World Cup giant slalom race, in Heavenly Valley in California, the same winter he won the NCAA downhill title. That year he finished eighth overall in the World Cup downhill standings, tying with Franz Klammer, the 1976 Olympic Champion. He was presented with the Buddy Werner Award in recognition of his sportsmanship and leadership on the U.S. Ski Team.
After leaving the U.S. Ski Team he raced professionally for three years, finishing third overall on the World Professional Tour in 1976. He returned to school to pursue a career in medicine.
A member of the UVM Athletic Hall of Fame, the U.S. Ski and Snowboard Hall of Fame and the Vermont Ski and Snowboard Hall of Fame, Sports Illustrated in 1999 ranked Cochran 15th in its Top 50 Sports Figures From Vermont (1900-2000).
Cochran joins his sisters Barbara Ann (2013), Marilyn (2014) in the Vermont Sports Hall of Fame. Lindy was inducted in 2017.