THE INDUCTEES

5TH CLASS-2017 INDUCTEES


4TH CLASS-2015 INDUCTEES


3RD CLASS-2014 INDUCTEES


2ND CLASS-2013 INDUCTEES


1ST CLASS-2012 INDUCTEES


NOMINATION FORM (PDF)


NOMINATION INFO & FAQS


INDUCTION DINNER INFO


ABOUT THE HALL

MISSION STATEMENT


BOARD OF DIRECTORS


SPONSORSHIP OPPORTUNITIES


VSHOF on FACEBOOK


RELATED LINKS


CONTACT US


HOME PAGE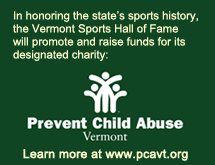 VERMONT SPORTS HALL OF FAME
James P. Taylor
Outdoors
Green Mountain Club
2014 Historic Award inductee
The late James P. Taylor (1872-1949) envisioned, planned and helped build the first long-distance hiking trail in the United States, Vermont's Long Trail. For his vision and efforts that have improved the Vermont outdoors for over a century, Taylor is the 2014 Vermont Sports Hall of Fame Historic Award inductee.
The Long Trail served as the inspiration for the Appalachian Trail and many other hiking trails that followed. The Long Trail was started in 1910 and completed in 1930, making it the oldest long distance hiking trail in the U.S.
The vision for the trail is said to come to Taylor atop Stratton Mountain after it finally stopped raining during one hike. He also founded the Green Mountain Club to "make the Vermont mountains play a larger role in the life of the people." It's clear that he succeeded; foot traffic on the trail continues to be very heavy and provides magnificent interaction with the Green Mountains.
At the time Taylor conceived the Long Trail, he was the assistant headmaster at Vermont Academy in Windsor. The Hamilton, N.Y., native later became the Vermont Secretary of Commerce and one of his chief goals was to make the still remote state of Vermont a more attractive and accessible place for tourists.
To this day, the Green Mountain Club still maintains the Long Trail and its lecture and speakers series is named in memory of Taylor.