THE INDUCTEES

5TH CLASS-2017 INDUCTEES


4TH CLASS-2015 INDUCTEES


3RD CLASS-2014 INDUCTEES


2ND CLASS-2013 INDUCTEES


1ST CLASS-2012 INDUCTEES


NOMINATION FORM (PDF)


NOMINATION INFO & FAQS


INDUCTION DINNER INFO


ABOUT THE HALL

MISSION STATEMENT


BOARD OF DIRECTORS


SPONSORSHIP OPPORTUNITIES


VSHOF on FACEBOOK


RELATED LINKS


CONTACT US


HOME PAGE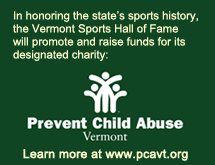 VERMONT SPORTS HALL OF FAME
Michael D. 'Mike' Gallagher
Nordic Skiing/Running
Rutland
Inducted 2014
Mike Gallagher was among the most successful U.S. Nordic skiers during his career competing in three Olympics and three FIS World Championships. Along the way he won nine national Nordic skiing championships and was the U.S. National Nordic Ski Team head coach for seven years from 1980 to 1986.
At 1959 graduate of Rutland High School and a 1967 graduate of Castleton State College, he won the U.S. junior Nordic ski title in 1959. Along with skiing in the 1964, 1968 and 1972 Olympics, his most cherished result was a 19th place finish in the prestigious Holmenkollen (Norway) 50-kilometer classic in 1968.
He learned to ski from his father, who was a veteran of the Army's 10th Mountain Division. After graduating from Rutland High he attended the University of Colorado before joining the U.S. National Ski Team. He made his Olympic debut at the Innsbruck games in 1964 competing in the 15K and the 4 x 10K relay. At Grenoble in 1968 he skied in four events, the 15K, 30K and 50K (22nd place) as well as the relay. He returned to the Olympics in 1972 at Sapporo in the 30K and relay.
He attended Castleton while training for the 1968 Olympics, he raced on the Spartans track team setting New England State College records (now New England D-III) in the mile and two-mile, both Castleton records along with a school record in the 880. He is Castleton's first VSHOF inductee.
After his competitive ski days, Gallagher served as the head coach of the U.S. national ski team (1980-86) with fellow Vermont Sports Hall of Fame inductee Bill Koch of Guilford among the team members. He was a U.S. Olympic team coach in 1980, 1984 and 1992.
Along with his effort at Castleton, Gallagher enjoyed a successful running career, winning the Mount Washington Road Race four consecutive years (1968-1971) and was a 2001 inductee in the Mount Washington Road Race Hall of Fame. He also was an accomplished bike rider. Settling in Vermont after his coaching stint with the U.S. Ski Team, he was the Nordic director at the Mountain Top Inn in Vermont and was a Nordic coach for several high school teams for many years.
Gallagher was inducted into several halls of fame, including the National Ski Hall of Fame, the Castleton Athletic Hall of Fame and the Vermont Ski Museum Hall of Fame. Ski Racing magazine said in 2013, "If you Nordic ski raced in the U.S., you likely passed through his sphere of influence as Gallagher was a mentor to hundreds."
Gallagher passed away on his 72nd birthday in 2013 at his home in Pittsfield, Vermont.