THE INDUCTEES

5TH CLASS-2017 INDUCTEES


4TH CLASS-2015 INDUCTEES


3RD CLASS-2014 INDUCTEES


2ND CLASS-2013 INDUCTEES


1ST CLASS-2012 INDUCTEES


NOMINATION FORM (PDF)


NOMINATION INFO & FAQS


INDUCTION DINNER INFO


ABOUT THE HALL

MISSION STATEMENT


BOARD OF DIRECTORS


SPONSORSHIP OPPORTUNITIES


VSHOF on FACEBOOK


RELATED LINKS


CONTACT US


HOME PAGE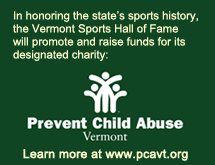 VERMONT SPORTS HALL OF FAME
George 'Doc' Jacobs
St. Michael's College
Contributor
Inducted 2014
George W. 'Doc' Jacobs, known as the father of the Saint Michael's College athletic program, served as director of athletics and a coach of several sports from 1947 to 1968. He is the first VSHOF inductee from Saint Michael's College and the Hall's first Vermont college basketball coach.
Jacobs led the Purple Knight men's basketball team to nine Vermont state championships and five New England championships. His SMC teams of 1958-60 made three straight appearances at the NCAA College Division (D-II) Elite Eight in Evansville, Ind. His 1958 'Iron Knights' team was the NCAA runner-up defeating host Evansville in the national semifinals before falling to South Dakota in the national title game. The second place finish is the best for any NCAA hoop program in Vermont.
His SMC football teams captured four straight state championships and his undefeated 1951 team won the New England college division title. Jacobs also coached his baseball and golf teams to Vermont state championships, making him the only coach to win state titles in four sports.
Saint Michael's has honored Jacobs with the Doc Jacobs Classic basketball tournament, the Doc Jacobs athletic field complex and the Doc Jacobs Award, given to individuals who have made outstanding contributions to the athletic department regardless of athletic ability.
Prior to moving to St. Michael's, Jacobs was a three-sport star at Villanova in the 1920s and later served as the school's baseball coach (1933-43) and men's basketball coach (1929-36).
Jacobs is a member of the SMC Athletic Hall of Fame, the American Baseball Coaches Association Hall of Fame and the Helms Foundation (athletic directors) Hall of Fame.