THE INDUCTEES

5TH CLASS-2017 INDUCTEES


4TH CLASS-2015 INDUCTEES


3RD CLASS-2014 INDUCTEES


2ND CLASS-2013 INDUCTEES


1ST CLASS-2012 INDUCTEES


NOMINATION FORM (PDF)


NOMINATION INFO & FAQS


INDUCTION DINNER INFO


ABOUT THE HALL

MISSION STATEMENT


BOARD OF DIRECTORS


SPONSORSHIP OPPORTUNITIES


VSHOF on FACEBOOK


RELATED LINKS


CONTACT US


HOME PAGE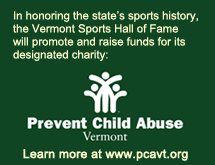 VERMONT SPORTS HALL OF FAME
Marilyn Cochran
Richmond
Alpine skiing
Inducted 2014
The eldest of the four world class 'Skiing Cochrans' siblings, Marilyn Cochran was the first American to win an alpine World Cup ski discipline, reigning in the giant slalom at age 19 in 1969; no other American achieved this until Phil Mahre (Alpine combined) in 1980. A three-time U.S. national champion, Cochran was also the first foreign competitor to win the French Alpine championships.
In 1970, she won a bronze medal in the combined at the FIS World Championships. Two winters later she competed in all three Alpine events- slalom, giant slalom and downhill- at the 1972 Winter Olympics at Sapporo, Japan.
During her career, Cochran three World Cup races, two in slalom and one in giant slalom. She had 15 podium finishes and 50 top 10 finishes in World Cup events. In 1971, she won her first World Cup race at Mont St. Anne in Quebec with her sister, Barbara finishing second. That winter she received the Beck International Trophy as the top U.S. international skier.
After finishing eighth in the world championships in 1974, Cochran retired and the U.S. Ski Team honored her with the Buddy Werner Award for sportsmanship.
She was named to the National Ski Hall of Fame in 1978 and is a member of the UVM Athletic Hall of Fame and the Vermont Ski and Snowboard Hall of Fame. Sports Illustrated in 1999 ranked Marilyn Cochran 13th in its Top 50 Sports Figures From Vermont (1900-2000).
Cochran joins her sisters Barbara Ann (2013) and brother Bobby (2014) in the Vermont Sports Hall of Fame. Her sister Lindy was inducted in 2017.