THE INDUCTEES

5TH CLASS-2017 INDUCTEES


4TH CLASS-2015 INDUCTEES


3RD CLASS-2014 INDUCTEES


2ND CLASS-2013 INDUCTEES


1ST CLASS-2012 INDUCTEES


NOMINATION FORM (PDF)


NOMINATION INFO & FAQS


INDUCTION DINNER INFO


ABOUT THE HALL

MISSION STATEMENT


BOARD OF DIRECTORS


SPONSORSHIP OPPORTUNITIES


VSHOF on FACEBOOK


RELATED LINKS


CONTACT US


HOME PAGE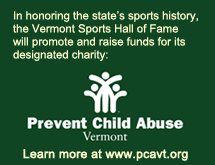 VERMONT SPORTS HALL OF FAME
Judi St. Hilaire
Lyndonville
Track & Field/Running
Inducted 2014
One of the nation's most accomplished women's distance runners, Judi St. Hilaire was the first Vermont woman to compete in track and field at the Summer Olympics competing in the 10,000 meters at the 1992 Games in Barcelona. She qualified for the finals and finished eighth. She also was the national record holder in the 5K road race event in 1989 and finished seventh at the 1991 World Track and Field Championships in Tokyo.
A three-time winner of the Vermont State Cross Country Championship (1974-75-76), she led Lyndon Institute to three-straight Class I team titles (now D-II). St. Hilaire won numerous state titles on the track in all the distance events pacing the Vikings to two Class L (now D-I) state team championships.
St. Hilaire went on to the University of Vermont and as a senior she won the 1979 ECAC cross country individual championship and finished fourth at the nationals.
On the track, she set UVM records in five indoor and six outdoor events (three stand today) and capped her collegiate career with a first-place finish in the 10,000-meters at the AAU Nationals in 1980. A New England and ECAC Champion in the 5,000 meters in 1979 and 1980, St. Hilaire still holds after 35 years the New England Championship meet record in the 5,000 (16:03.6).
After graduation she joined the Nike International Team and won several major road races including the Crescent City Classic.10-K in New Orleans five times, all in a row, from 1990 to 1994. She also was a four-time winner of the elite Manchester (Conn.) 5-mile Thanksgiving road race. St. Hilaire set a U.S. 5-K road race record in Albany (N.Y.) in 1989 and bested it again that year at a race in Fort Myers, Fla. She finished first in the 1993 World Track & Field Road Race rankings.
A 1991 inductee of the UVM Athletic Hall of Fame, in 2003 she became the first track and field athlete-male or female- to be inducted into the VPA Hall of Fame in 2003. In 1999 Sports Illustrated ranked St. Hilaire 35th in its Top 50 Sports Figures From Vermont in the 20th Century.
She resides in Somerset, Mass. and still competes in road races while coaching and training other runners.