THE INDUCTEES

5TH CLASS-2017 INDUCTEES


4TH CLASS-2015 INDUCTEES


3RD CLASS-2014 INDUCTEES


2ND CLASS-2013 INDUCTEES


1ST CLASS-2012 INDUCTEES


NOMINATION FORM (PDF)


NOMINATION INFO & FAQS


INDUCTION DINNER INFO


ABOUT THE HALL

MISSION STATEMENT


BOARD OF DIRECTORS


SPONSORSHIP OPPORTUNITIES


VSHOF on FACEBOOK


RELATED LINKS


CONTACT US


HOME PAGE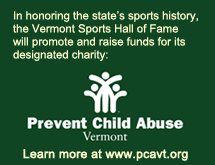 VERMONT SPORTS HALL OF FAME
Ernie Johnson
Brattleboro
Baseball
2014 Inductee
An excellent pitcher at Brattleboro Union High in the late 1930s and early 1940s, Ernie Johnson went on a solid nine-year career in the major leagues including helping the Milwaukee Braves to the 1957 World Championship. He also was a broadcaster and executive for the Milwaukee and Atlanta Braves for close to four decades.
Johnson graduated from Brattleboro Union High in 1942 after going 6-3 on the mound as a senior including three straight one-hit shutouts striking out 20 in one game against Deerfield (Mass.).
He signed with the Boston Braves in June of 1942 and pitched for Hartford in the Eastern League before going on to serve with the Marine Corps in World War II. He pitched in the Braves system after returning from the service and made his big league debut in 1950 for Boston.
Starting in 1952, Johnson anchored the Braves bullpen for the next six seasons. His best was in 1957 going 7-3 in 30 appearances including three more with a 1.29 ERA in Milwaukee's seven-game World Series victory over the New York Yankees. He wrapped up his playing career with Baltimore in 1959. Johnson posted a 40-23 record in the majors with a 3.77 ERA pitching in 273 career games.
After his playing days were over, he became a Braves broadcaster in 1962 and called the games until 2000, most notably from on cable Superstation WTBS.
Johnson is a member of the Georgia Sports Hall of Fame, the Atlanta Sports Hall of Fame, the Braves Hall of Fame and the Georgia Radio and Television Hall of Fame.
Ernie Johnson passed away on August 11, 2011 at the age of 87.