THE INDUCTEES

5TH CLASS-2017 INDUCTEES


4TH CLASS-2015 INDUCTEES


3RD CLASS-2014 INDUCTEES


2ND CLASS-2013 INDUCTEES


1ST CLASS-2012 INDUCTEES


NOMINATION FORM (PDF)


NOMINATION INFO & FAQS


INDUCTION DINNER INFO


ABOUT THE HALL

MISSION STATEMENT


BOARD OF DIRECTORS


SPONSORSHIP OPPORTUNITIES


VSHOF on FACEBOOK


RELATED LINKS


CONTACT US


HOME PAGE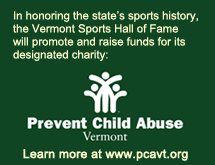 VERMONT SPORTS HALL OF FAME
Mae Murray Jones
Rutland
Golf
Inducted 2014
The first golfer to be inducted into the Vermont Sports Hall of Fame, Mae Murray Jones is the foremost femaie golfer in Vermont history.
Murray Jones began her career by winning the first of her six Vermont amateur championships at age 15 and won four consecutive New England championships starting in 1959 in Massachusetts at the historic course, The Country Club in Brookline, followed by victories in Rhode Island, New Hampshire and, finally, on her home course, the Rutland Country Club in 1962. No Vermont woman would win a New England championship for 30 years, when Holly Reynolds of Morrisville won the title.
Murray Jones emerged as a national figure at age 22 when she reached the finals of the 1949 Western Amateur championship and then tied for sixth at the 1949 U.S. Women's Open at Prince George's Country Club in Landover, Md.
She would be the runner-up the finals at the 1950 U.S. Women's Amateur at East Lake in Atlanta, home course of the legendary Bobby Jones. She won her first three matches and in the quarterfinals, Murray Jonesplayed 12-time Argentine champion and future LPGA pro Fay Crocker in one of the longest matches in U.S. amateur golf. The match was suspended by darkness after the sixth extra holes. Upon resumption of play the next day, she won on the third extra hole. She was 2-under par for the 27-hole match, called "the greatest match, men's or women's, that I have ever seen" by Bobby Jones. She would win her semifinal match but lost in the 36-hole final, 6 & 4, to Beverly Hanson.
Murray Jones also finished second in the North-South Tourament and reached the semifinals of the Canadian Women's Open. She competed for the U.S. on the 1952 Curtis Cup team. She continued on to Troon, where she reached the semifinals of the British Open.
Murray Jones passed away in Lancaster, Pa., at age 78 in 2005.