THE INDUCTEES

5TH CLASS-2017 INDUCTEES


4TH CLASS-2015 INDUCTEES


3RD CLASS-2014 INDUCTEES


2ND CLASS-2013 INDUCTEES


1ST CLASS-2012 INDUCTEES


NOMINATION FORM (PDF)


NOMINATION INFO & FAQS


INDUCTION DINNER INFO


ABOUT THE HALL

MISSION STATEMENT


BOARD OF DIRECTORS


SPONSORSHIP OPPORTUNITIES


VSHOF on FACEBOOK


RELATED LINKS


CONTACT US


HOME PAGE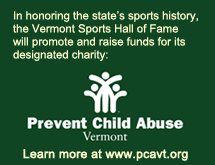 VERMONT SPORTS HALL OF FAME
Larry Benoit
Outdoors- Hunting
Waterbury
Inducted 2012
Larry Benoit grew up on a small hardscrabble farm in the mountains of Vermont at a time when a successful hunt could mean the difference between having meat on the table or going without.
Benoit became so successful at tracking and bagging the large, mature bucks of northern Vermont and Maine in the deep woods known for low deer densities and lower hunter success fates that he was called "The Best Deer Hunter in America" in a 1970 cover story of Sports Afield magazine. Fellow hunters and Vermonters often traveled to his Duxbury home to see the giant deer hanging from his porch.
Over the years, Benoit's exploits have been the subject of numerous national and regional magazine articles, many of which described him as a "living legend."
In 1975, Benoit co-authored the seminal deer-tracking book "How to Bag the Biggest Buck of Your Life." The book, since reprinted, sparked a nationwide interest in tracking and turned many of the sit-and-wait hunters into skilled, active trackers. He also co-authored several other popular books.
Benoit passed on his love and skill for hunting to his sons, Lanny, Shane and Lane Benoit. Each is among the best trackers of his generation, extending the Benoit legacy throughout deer camps across the country.
Larry Benoit's legacy is still readily seen today in Vermont and the north woods of New England where hunters, many clad in his signature green-checkered wool jacket, search for large, fresh track every fall, using the skills he has passed along for a hunting style he has popularized.