THE INDUCTEES

5TH CLASS-2017 INDUCTEES


4TH CLASS-2015 INDUCTEES


3RD CLASS-2014 INDUCTEES


2ND CLASS-2013 INDUCTEES


1ST CLASS-2012 INDUCTEES


NOMINATION FORM (PDF)


NOMINATION INFO & FAQS


INDUCTION DINNER INFO


ABOUT THE HALL

MISSION STATEMENT


BOARD OF DIRECTORS


SPONSORSHIP OPPORTUNITIES


VSHOF on FACEBOOK


RELATED LINKS


CONTACT US


HOME PAGE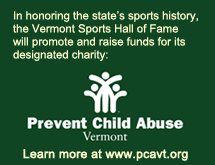 VERMONT SPORTS HALL OF FAME
Ray Collins
Baseball
Colchester
Inducted 2012
Collins grew up on a farm in Colchester and was a successful pitcher for Burlington High School, the University of Vermont and the Boston Red Sox.
A 1905 Burlington High graduate, he led BHS to an 8-4 record while pitching every game as a senior.
He went up the Main Street hill to college where he was a standout left-hander for four seasons at UVM, winning 37 of his 51 starts. Named to several All-New England and All-East teams by the newspapers of the day, UVM led by Collins and Larry Gardner was recognized as the 1908 New England Champion.
After graduation in 1909, he signed with the Boston Red Sox and went straight to the big leagues. Collins hurled seven seasons in the majors for Boston with a 84-62 (.575) record in 199 appearances, 151 starts, recording a 2.51 ERA. He struck out 511 hitters while walking only 269 in 1,336 innings pitched. He currently (as of 2012) has the 44th best ERA in major league history and is 54th in fewest walks per game (1.812 walks per nine innings).
He was a 20-game winner in 1914 going 20-13 and three times he finished in the American League top 10 in earned run average.
Collins was a mainstay in the rotation for two Red Sox World Championship teams in 1912 and 1915. He started the first World Series game held at Fenway Park in 1912, game two of the legendary fall classic against the New York Giants.
Collins returned to Vermont and was the baseball coach at UVM from 1923 to 1928 and briefly was the school's athletic director. He also served as on the university's board of directors in the 1950s and was a member of the Vermont Legislature. He was an inaugural inductee into the UVM Athletic Hall of Fame in 1969. He passed away in 1970 at the age of 82.
In 1999, Sports Illustrated magazine ranked Collins 11th in its list of the Top 50 Vermont athletes of the 20th Century.
Click here for Collins's major league statistics on baseballreference.com.