THE INDUCTEES

5TH CLASS-2017 INDUCTEES


4TH CLASS-2015 INDUCTEES


3RD CLASS-2014 INDUCTEES


2ND CLASS-2013 INDUCTEES


1ST CLASS-2012 INDUCTEES


NOMINATION FORM (PDF)


NOMINATION INFO & FAQS


INDUCTION DINNER INFO


ABOUT THE HALL

MISSION STATEMENT


BOARD OF DIRECTORS


SPONSORSHIP OPPORTUNITIES


VSHOF on FACEBOOK


RELATED LINKS


CONTACT US


HOME PAGE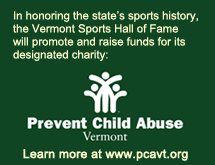 VERMONT SPORTS HALL OF FAME
Larry Gardner
Baseball
Enosburg Falls
Inducted 2012
Larry Gardner was an exceptional baseball player who was a standout at his hometown Enosburg High School and the University of Vermont before embarking on a 17-year major league career where he was a starter on four World Series Champions.
He was outstanding four-year baseball player at Enosburg High School pitching every inning of his junior year (1904) while hitting .432 as a senior in 1905 leading the Hornets to 7-1 record and mythical state title.
He went on to UVM and as a third baseman, he was named to several All-East teams in 1907 and 1908. Teaming up with Ray Collins of Colchester, Vermont in 1908 was recognized as the New England champion.
Gardner made his big league debut in 1908 with the Boston Americans (now Red Sox) and played most of his 17-year career at third base. He hit .289 with 1,931 hits, 129 triples and 165 stolen bases in 1,923 career games with the Red Sox (1908-17), Philadelphia Athletics (1918) and Cleveland Indians (1919-24).
Five times Gardner batted-.300 or higher and twice drove in 100 or more runs. After nine years with Boston he still ranks fifth all-time in Red Sox history in triples (87 with Boston), sixth in stolen bases (134), and third in sacrifice hits (182).
He played in 25 postseason games in four World Series, with his team winning the world title each time: Boston Red Sox in 1912, 1915 and 1916 and the Cleveland Indians in 1920. In his first 'Fall Classic', Gardner drove in the winning run in the deciding game of the exciting 1912 World Series on a 10th inning sacrifice fly off Christy Mathewson.
Gardner has the distinction of playing in the first game at UVM's historic Centennial Field in 1906 and in the first game at Boston's Fenway Park in 1912.
After retiring from professional baseball he served as the baseball coach and athletic director at UVM for over 30 years. He an inaugural inductee into the UVM Athletic Hall of Fame in 1969 and was inducted into the Boston Red Sox Hall of Fame in 2000. He passed away at the age of 89 in 1976.
In 1999, Sports Illustrated magazine ranked Gardner seventh on its list of the Top 50 Vermont athletes of the 20th Century.
Click here for Gardner's major league statistics on baseballreference.com.