THE INDUCTEES

5TH CLASS-2017 INDUCTEES


4TH CLASS-2015 INDUCTEES


3RD CLASS-2014 INDUCTEES


2ND CLASS-2013 INDUCTEES


1ST CLASS-2012 INDUCTEES


NOMINATION FORM (PDF)


NOMINATION INFO & FAQS


INDUCTION DINNER INFO


ABOUT THE HALL

MISSION STATEMENT


BOARD OF DIRECTORS


SPONSORSHIP OPPORTUNITIES


VSHOF on FACEBOOK


RELATED LINKS


CONTACT US


HOME PAGE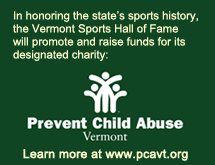 VERMONT SPORTS HALL OF FAME
Bill Koch
Nordic Skiing
Brattleboro
Inducted 2012
Bill Koch turned his Vermont work ethic into a career as a world-class Nordic ski racer. Many recognize him as arguably the greatest-ever American Nordic skier. He became the first U.S. Nordic skier to win an Olympic medal taking the silver in the men's 30-K in 1976, and was the only American to medal in a Nordic event until 2010.
A mainstay for the U.S. National Ski Teams, Koch skied in four Olympics, 1976 in Innsbruck, 1980 in Lake Placid, 1984 in Sarajevo and came back to race in the 1992 games in Albertville.
A graduate of The Putney School, he began career as a Nordic combined competitor (racing and jumping). Koch burst on the scene with a third place finish at the 1974 World Junior Nordic Championships becoming the first American to medal in that event.
In addition to his silver medal in the 30-K in 1976, he also finished sixth in the 15K and 13th in the 50K. He led U.S. to sixth in the Nordic relay.
After struggled in the 1980 Olympics in nearby Lake Placid due to asthma, he switched to longer races where he introduced the Nordic 'skating' technique in 1982, now known as 'freestyle'.
Koch bounced back to finish third in the 1982 30K World Championships, the first non-European ever to win a medal at that competition. At the end of the 1982 ski season he was crowned the 1982 World Cup Champion.
He skied in four events at the 1984 games and completed a comeback of sorts by earning a spot on the 1992 U.S. Olympic Team. He led the U.S. team as its flag bearer at the opening ceremonies of the 1992 Albertville Olympics and competed in the 30-K.
Koch was inducted in the United States Skiing Hall of Fame in 1976 and the Vermont Skiing Hall of Fame in 2005. Sports Illustrated magazine in 1999 ranked Koch third on its list of the Top 50 Vermont athletes of the 20th Century.
His Nordic ski legacy is carried on as the many youth ski leagues of the New England Nordic Ski Association are named in his honor- the Bill Koch Ski Leagues.
Click HERE for a youtube video on Bill Koch courtesy of the U.S. Olympic Team.