THE INDUCTEES

5TH CLASS-2017 INDUCTEES


4TH CLASS-2015 INDUCTEES


3RD CLASS-2014 INDUCTEES


2ND CLASS-2013 INDUCTEES


1ST CLASS-2012 INDUCTEES


NOMINATION FORM (PDF)


NOMINATION INFO & FAQS


INDUCTION DINNER INFO


ABOUT THE HALL

MISSION STATEMENT


BOARD OF DIRECTORS


SPONSORSHIP OPPORTUNITIES


VSHOF on FACEBOOK


RELATED LINKS


CONTACT US


HOME PAGE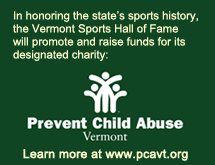 VERMONT SPORTS HALL OF FAME
John LeClair
Ice Hockey
St. Albans
Inducted 2012
The product of one of the top hockey towns in New England, St. Albans-native John LeClair skated to success at the high school, collegiate and professional level while having success on several U.S. National teams along the way.
The 1987 Vermont high school hockey player of the year as a senior, LeClair led BFA St. Albans to the D-I State Championship that season while tallying 84 points on 44 goals and 40 assists in 23 games. That summer he was the second-round pick, 33rd overall, of the Montreal Canadiens in 1987 NHL Entry Draft, still the highest-ever for a native Vermonter.
He went on to a standout four-year career at the University of Vermont with 116 career points and earned All-ECAC honors in 1991 While at UVM he was twice a member of the U.S. Junior National Team, in 1987 and 1988.
After his final collegiate game he signed with Montreal and was immediately inserted in the lineup scoring a goal in his first NHL game at the Montreal Forum on March 9, 1991. That was the start of LeClair's 16-year NHL career for Montreal (1990-95), Philadelphia (1995-2004) and Pittsburgh (2005-07) scoring 406 goals (83rd all-time in NHL history) with 413 assists for 819 points in 967 career games. He was twice a first-team NHL All-Star (1994-95, 1997-98) and three times on the second team. He also skated in five NHL All-Star Games.
In 1993 he helped the Habs to the Stanley Cup, scoring two overtime game-winning goals in the Stanley Cup Finals versus Los Angeles becoming the first player in NHL history to score in back-to-back overtime game-winners in the Stanley Cup Finals.
He was traded to Philadelphia in February, 1995 and had great success with the Flyers. The left wing on the legendary 'Legion of Doom' line, he scored 50 or more goals three times, all in consecutive years, and 40 or more in five straight seasons. He became the first American NHL player to score 50 goals in three straight years.
LeClair skated for his national team several times. He helped the U.S. to the gold in the 1996 World Cup of Hockey and twice played for the U.S. Olympic Team, in 1998 and 2002, when he won a silver medal.
LeClair was named to the UVM Athletic Hall of Fame in 2001, the Vermont Principals Association Hall of Fame in 2004 (the VPA's first hockey player) and the U.S. Hockey Hall of Fame in 2010. He was ranked fourth in 1999 by Sports Illustrated on its list of the Top 50 Vermont athletes of the 20th Century.
Click HERE for LeClair's profile and statistics on www.legendsofhockey.net