THE INDUCTEES

5TH CLASS-2017 INDUCTEES


4TH CLASS-2015 INDUCTEES


3RD CLASS-2014 INDUCTEES


2ND CLASS-2013 INDUCTEES


1ST CLASS-2012 INDUCTEES


NOMINATION FORM (PDF)


NOMINATION INFO & FAQS


INDUCTION DINNER INFO


ABOUT THE HALL

MISSION STATEMENT


BOARD OF DIRECTORS


SPONSORSHIP OPPORTUNITIES


VSHOF on FACEBOOK


RELATED LINKS


CONTACT US


HOME PAGE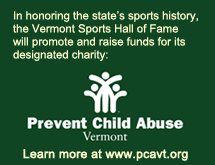 VERMONT SPORTS HALL OF FAME
Andrea Mead Lawrence
Alpine Skiing
Rutland
Inducted 2012
Andrea Mead Lawrence burst onto the international ski scene at the age of 15 as a member of the 1948 United States Olympic Team at the St. Moritz Winter Games in 1948. She placed eighth in the slalom 21st in Alpine combined and was 35th in the downhill.
Four years later, she became the first U.S. Alpine skier, male or female, to medal at the Olympics, winning the gold in slalom and giant Slalom at the Oslo Winter Games. The two gold medals were an accomplishment that still has not been duplicated by an American Alpine skier. The feat earned her the title of "the greatest Winter Olympian of all time" by noted Olympics filmmaker Bud Greenspan.
At Oslo, she first won the giant slalom but fell during the first run of the slalom, though she finished. She was in fourth place when she began her second run. She finished in 1 minute, 3.4 seconds to overall the world's finest female skiers for her second gold.
No other American skier won a gold in Alpine skiing until fellow Vermonter Barbara Cochran won the slalom 20 years later in Sapporo, Japan.
The Rutland native first joined the U.S. Alpine Ski Team as an 11-year-old. She learned to ski at Pico Peak, a Mendon ski area owned by her parents.
After the 1948 Games, Lawrence swept all the alpine events at the U.S. nationals as a 17-year-old in 1950. She then won 10 of 16 races in 1951, including the Arlbert-Kandahar downhill, which was recognized as the unofficial world championship.
Mead Lawrence made her final Olympic appearance as a competitor in 1956, placing fourth in the giant slalom at Cortina d'Ampezzo, Italy. She was inducted into the National Ski Hall of Fame in 1958 and carried the torch for the 1960 Squaw Valley Winter Games.
She was recognized in 1999 by Sports Illustrated at the top of its list of the Top 50 Vermont athletes of the 20th Century.
Mead Lawrence resided for many years in the Sierra Nevada mountains of California where she was active in conservation and outdoors issues. In 2003, she founded the nonprofit Andrea Lawrence Institute for Mountains and Rivers to promote conservation.
She was the first inductee into the Vermont Skiing Hall of Fame and Museum in 2002 and was inducted into the U.S. Olympic Committee Hall of Fame.
Andrea Mead Lawrence passed away in 2009 at the age of 79.