THE INDUCTEES

5TH CLASS-2017 INDUCTEES


4TH CLASS-2015 INDUCTEES


3RD CLASS-2014 INDUCTEES


2ND CLASS-2013 INDUCTEES


1ST CLASS-2012 INDUCTEES


NOMINATION FORM (PDF)


NOMINATION INFO & FAQS


INDUCTION DINNER INFO


ABOUT THE HALL

MISSION STATEMENT


BOARD OF DIRECTORS


SPONSORSHIP OPPORTUNITIES


VSHOF on FACEBOOK


RELATED LINKS


CONTACT US


HOME PAGE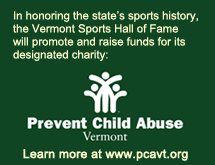 VERMONT SPORTS HALL OF FAME
Ken Squier
Media/Auto Racing
Waterbury
2012 Inductees
As a stock car driver, Ken Squier attained modest success at best. Yet his influence on stock car racing has been enormous at the Vermont and national levels, where he was one of the first television voices of NASCAR.
The Waterbury native began his career at his father's station, WDEV, at an early age. He did his first live call of a stock car race at age 14 from the back of an old truck at a small Vermont dirt track.
In 1961, he built Thunder Road International Speedbowl, "The Nation's Site of Excitement," in Barre. He still co-owns and operates the track with Tom Curley. Thunder Road has built a reputation as one of the most popular and exciting short tracks nationally.
Squier's most prominent role came when he assumed duties as the track announcer for the Daytona 500. He became one of the founders of the Motor Racing Network (MRN) on radio and serves as its top commentator from 1969 to 1978.
In 1973, Squier joined CBS Sports and persuaded the network to televise the 1979 Daytona 500 live to the nation. He was the primary broadcaster and the inaugural telecast drew a large audience that began NASCAR's long run with major television networks.
Even as he promoted stock car racing at the state and national levels, Squier retained an interest in and focus on other local sports. He spent many years broadcasting high school basketball games on WDEV, which continues to provide regular play-by-play game coverage for high schools and Norwich University under his supervision. He continues to do daily sports spots on the station, offering news, tidbits and commentary.
Squier is a five-time Vermont Sportscaster of the Year as selected by the National Sportswriters and Sportscasters Association. He is a charter member of the Vermont Broadcasters Hall of Fame. He was named to the Daytona Beach Auto Racing Hall of Fame in 2000 and the New England Auto Racers Hall of Fame in 2002. In 2012, he was named an inaugural co-winner of the NASCAR Hall of Fame's media award that will bear his name, the Squier-Hall Award for Media Excellence.