THE INDUCTEES

5TH CLASS-2017 INDUCTEES


4TH CLASS-2015 INDUCTEES


3RD CLASS-2014 INDUCTEES


2ND CLASS-2013 INDUCTEES


1ST CLASS-2012 INDUCTEES


NOMINATION FORM (PDF)


NOMINATION INFO & FAQS


INDUCTION DINNER INFO


ABOUT THE HALL

MISSION STATEMENT


BOARD OF DIRECTORS


SPONSORSHIP OPPORTUNITIES


VSHOF on FACEBOOK


RELATED LINKS


CONTACT US


HOME PAGE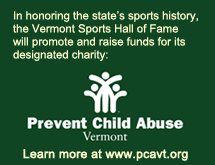 VERMONT SPORTS HALL OF FAME
Bob Yates
Football
Montpelier
Inducted 2012
Bob Yates was an excellent football lineman and kicker for Montpelier High School, Syracuse University and the Boston (now New England) Patriots. He is one of the only Vermont high school products to reach the NFL.
A 1956 graduate of Montpelier High , Yates was a four-year standout for the Solons earning all-state honors and he was named to the High School All-America Team in 1955. He helped lead Montpelier to a state title his senior season and the next summer he anchored the line of the 1956 Vermont Shrine team. He went on to have a great collegiate career at Syracuse University where he was an offensive and defensive lineman, and handled the punting and kickoff duties for the Orangemen.
With Yates leading the way in 1958 and 1959, the team's offensive line helped pave the way for SU to set several program rushing records. He started for the Orange in two major bowl games, the 1959 Orange Bowl and the 1960 Cotton Bowl. He was named a Sporting News All-American in 1959 after anchoring the line of Syracuse's 11-0 National Champions, who defeated #2 Texas in the Cotton Bowl.
At graduation in 1960, he received Syracuse's Pat Millar Award as the school's Outstanding Student Athlete. In 1999, he was named to Syracuse's All-Century Team.
Yates was drafted in 1960 by the NFL's New York Giants (seventh round) but signed with the Boston Patriots of the newly formed American Football League (that would merge with the NFL in 1970). He was a regular in 67 games on the offensive line over six seasons including the original Patriots team in 1960. Yates also played in the Patriots first championship game, the 1963 AFL title game at San Diego.
Following his playing career Yates was an assistant coach at Lawrence (Mass.) High School and Harvard before becoming a successful high school head coach in Gloucester, Mass. He returned to Vermont in 1979 and was the head coach at Burlington High for nine seasons and was the Vermont Shrine team head coach in 1983.