THE INDUCTEES

5TH CLASS-2017 INDUCTEES


4TH CLASS-2015 INDUCTEES


3RD CLASS-2014 INDUCTEES


2ND CLASS-2013 INDUCTEES


1ST CLASS-2012 INDUCTEES


NOMINATION FORM (PDF)


NOMINATION INFO & FAQS


INDUCTION DINNER INFO


ABOUT THE HALL

MISSION STATEMENT


BOARD OF DIRECTORS


SPONSORSHIP OPPORTUNITIES


VSHOF on FACEBOOK


RELATED LINKS


CONTACT US


HOME PAGE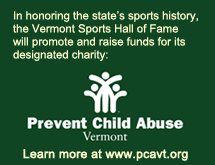 VERMONT SPORTS HALL OF FAME
Charles F. Adams
Historical Pioneer
Newport
Inducted 2013
A native of Newport, Charles F. Adams was a successful New England businessman who went on to found the Boston Bruins in 1924, the first American franchise in the National Hockey League.
A graduate of Newport High School, Adams's business career began in his hometown and Springfield, Vermont before moving to the Boston area where he was the founder of the First National Stores grocery chain.
An avid sportsman and hockey fan, Adams in 1924 was awarded the Boston franchise in the fledgling National Hockey League, establishing its first team outside of Canada to spread the sport into the United States. He made a risky financial commitment in 1926 to bolstered the Bruins roster by purchasing the entire Western Canada Hockey League (WCHL) for $300,000. Adams added future NHL Hall of Famer Eddie Shore among others to the Bruins and the WCHL talent pool strengthened the other new U.S. franchises in New York, Detroit and Chicago, forever transforming the NHL in the late 1920s and 1930s.
Adams also was instrumental in the building of the Boston Garden, one of the nation's venerable sports venues, opening the building in 1928. A year later the team won its first Stanley Cup championship, the first of three under Adams until his death in 1947. He also served as president of the baseball Boston Braves of the National League and the Suffolk Downs thoroughbred track in Revere, Mass.
Adams was inducted into the Hockey Hall of Fame in 1960. The NHL's Adams Division was named in honor of him and his family- his son and grandson served as presidents of the Bruins until 1975.
Click HERE for Adams' Hockey Hall of Fame bio page.