THE INDUCTEES

5TH CLASS-2017 INDUCTEES


4TH CLASS-2015 INDUCTEES


3RD CLASS-2014 INDUCTEES


2ND CLASS-2013 INDUCTEES


1ST CLASS-2012 INDUCTEES


NOMINATION FORM (PDF)


NOMINATION INFO & FAQS


INDUCTION DINNER INFO


ABOUT THE HALL

MISSION STATEMENT


BOARD OF DIRECTORS


SPONSORSHIP OPPORTUNITIES


VSHOF on FACEBOOK


RELATED LINKS


CONTACT US


HOME PAGE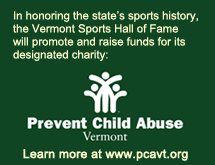 VERMONT SPORTS HALL OF FAME
Ray Fisher
Middlebury
Baseball
Inducted 2013
A baseball and football star at Middlebury High School, Fisher excelled in football, basketball, baseball and track at Middlebury College before embarking on a 10-year major league career. After retirement as an athlete, he had a legendary coaching career at the University of Michigan.
After Middlebury High School, he turned down football scholarship offers from UVM and Wesleyan to stay home to attend Middlebury College. In college he played football, basketball, baseball and set the school's shot put record. He pitched and played third base for the Panthers, and he struck out 18 Colgate hitters in his first start on the mound in 1907, a single-game record that stands today. He signed a pro contract the summer after his sophomore year at Middlebury in 1908 but returned to school in the offseason and earned his degree in 1910.
Fisher became the first Middlebury College alum to reach the big leagues in 1910, one of just two in school history. He eventually pitched 10 years in the majors with the New York Highlanders (Yankees) and the Cincinnati Reds, with whom he won a World Series in 1919. He finished with a record of 100-94 with a 2.82 earned run average, and was among the league leaders in ERA in three of his 10 seasons.
After his pro career, Fisher coached at the University of Michigan for 37 years, winning the school's first NCAA College World Series crown in 1953. He is a member of the Michigan Sports Hall of Fame, the American Baseball Coaches Hall of Fame and the U. Michigan Hall of Honor.