THE INDUCTEES

5TH CLASS-2017 INDUCTEES


4TH CLASS-2015 INDUCTEES


3RD CLASS-2014 INDUCTEES


2ND CLASS-2013 INDUCTEES


1ST CLASS-2012 INDUCTEES


NOMINATION FORM (PDF)


NOMINATION INFO & FAQS


INDUCTION DINNER INFO


ABOUT THE HALL

MISSION STATEMENT


BOARD OF DIRECTORS


SPONSORSHIP OPPORTUNITIES


VSHOF on FACEBOOK


RELATED LINKS


CONTACT US


HOME PAGE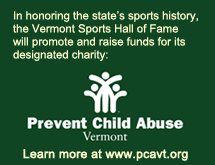 VERMONT SPORTS HALL OF FAME
Edward F. 'Ed' Kehoe
Rutland/Montpelier
Outdoors
Inducted 2013
Nearly every one of the more than 100,000 Vermonters who hunt and fish today continue to benefit from Ed Kehoe's leadership and vision. His many achievements are difficult to quantify, but their cumulative impact cannot be overstated.
The native of Rutland County served 17 years as the commissioner of the Vermont Fish and Wildlife Department. His leadership directed the agency through changing times, including the transformation from primarily a law enforcement and fish-stocking agency into a modern, science-driven fish and wildlife management agency. Among the new or revamped programs Kehoe spearheaded were: starting conservation camps for young Vermonters; introducing the mandatory Hunter Education Program; overseeing reintroduction of wild turkeys, perhaps Vermont's greatest wildlife success story; starting the Lake Champlain trout and salmon restoration programs; and pioneering fish habitat improvements.
Kehoe started the Green Mountain Conservation Camps at Lake Bomoseen in Castleton and Buck Lake in Woodbury. The camps have introduced tens of thousands of young Vermonters to the outdoors and wildlife conservation, and have since been emulated by other state wildlife agencies in the Northeast. The Lake Bomoseen camp and conservation education center were posthumously named in Kehoe's honor.
He was named "Outdoorsman of the Century" by the Rutland Herald in 1999 for his many contributions to Vermont's fish and wildlife resources and its hunting and fishing traditions.