THE INDUCTEES

5TH CLASS-2017 INDUCTEES


4TH CLASS-2015 INDUCTEES


3RD CLASS-2014 INDUCTEES


2ND CLASS-2013 INDUCTEES


1ST CLASS-2012 INDUCTEES


NOMINATION FORM (PDF)


NOMINATION INFO & FAQS


INDUCTION DINNER INFO


ABOUT THE HALL

MISSION STATEMENT


BOARD OF DIRECTORS


SPONSORSHIP OPPORTUNITIES


VSHOF on FACEBOOK


RELATED LINKS


CONTACT US


HOME PAGE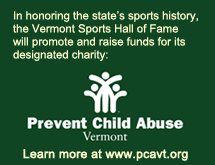 VERMONT SPORTS HALL OF FAME
Billy Kidd
Stowe/Burlington
Alpine Skiing
Inducted 2013
A two-time Olympian who grew up in Burlington and Stowe, Kidd went on to become the first great American alpine ski racer. First gained national and world prominence at age 19 at the 1962 FIS World Championships when he finished eighth in the slalom and 12th in the giant slalom.
Kidd missed much of the 1963 winter with an injury but rebounded in 1964 to become the first U.S. male ski racer to win an Olympic medal, capturing the silver medal in the slalom at the Innsbruck Winter Games. Also finished 16th in the downhill and seventh in the giant slalom.
In 1965, he captured eight straight races on the U.S. circuit and several others in Europe in 1966, going head-to-head with the great Jean-Claude Killy. He broke a leg in 1967 and battled ankle injuries in 1968 grabbing a fifth in the giant slalom and finishing 18th in the slalom at the Winter Olympics in Grenoble.
Kidd became the first American to win a FIS World Championship, capturing the combined title in 1970 at Val Gardena. He then turned pro and won the World Pro Championships in both slalom events later that winter.
Since retiring as a racer, he has been the director of skiing at Steamboat Springs in Colorado, a skiing color analyst on CBS, a part-time coach for the U.S. National Ski Team and was a member of the President's Council on Physical Fitness.
Kidd was inducted in the U.S. Ski Hall of Fame in 1976, selected to the Colorado Ski and Snowboard Hall of Fame in 1986, and the Vermont Ski and Snowboard Hall of Fame in 2006.
In 1999, Sports Illustrated selected Kidd second in its list of the Top 50 Vermont athletes of the 20th Century.