THE INDUCTEES

5TH CLASS-2017 INDUCTEES


4TH CLASS-2015 INDUCTEES


3RD CLASS-2014 INDUCTEES


2ND CLASS-2013 INDUCTEES


1ST CLASS-2012 INDUCTEES


NOMINATION FORM (PDF)


NOMINATION INFO & FAQS


INDUCTION DINNER INFO


ABOUT THE HALL

MISSION STATEMENT


BOARD OF DIRECTORS


SPONSORSHIP OPPORTUNITIES


VSHOF on FACEBOOK


RELATED LINKS


CONTACT US


HOME PAGE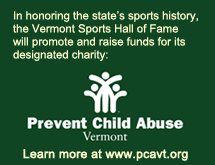 VERMONT SPORTS HALL OF FAME
Ralph Lapointe
Winooski
Multi-discipline : athlete (baseball/football)/coach (baseball)
Inducted 2013
A standout athlete from Winooski, Lapointe was an All-New England and All-American football player at the University of Vermont and reached the major leagues in baseball. He also became one of the region's top collegiate baseball coaches at his alma mater.
The speedy Lapointe was a three-sport star in football, basketball and baseball at Winooski High leading the Spartans to a state title on the diamond. He continued his three-sport success at UVM before World War II interrupted his playing days. In the fall of 1942 as a sophomore, he scored a then-school record 67 points as a gridiron halfback and earned All-New England honors and was an Associated Press Honorable Mention All-American. That winter he was a standout on the Catamounts basketball team before enlisting in the Army at midseason.
After returning from four years in the service in 1946, he signed with the Phillies organization and made the big club after spring training in 1947. After a stint in Triple A, he returned to the Phils at midseason and was team's regular shortstop the rest of 1947 finishing with a solid .308 average in 56 games and was named to the Sporting News National League All-Rookie Team. Just prior to the start of next season he was traded to the St. Louis Cardinals where he was an infield reserve hitting only .225 in 87 games in 1948. Spent the next three years at Triple-A before retiring in 1951.
Returned to Vermont and was an assistant football coach at UVM before being hired by Athletic Director Larry Gardner as the head baseball coach in December of 1951 at age 29. He had tremendous success over 16 seasons compiling a 216-117 record. He led the Catamounts to two Yankee Conference titles and three trips to the NCAA Tournament. His teams in 1956 and 1962 finished second in the New England Regionals, both times one win short of a trip to the College World Series in Omaha.
Tragically, Lapointe's coaching career was cut short at the young age of 45 when he lost a battle with cancer in September of 1967. He was named Yankee Conference Coach of the Year several times and was the 1969 NCAA Region I Coach of the Year. Also in 1969 he was an inaugural member of the UVM Athletic Hall of Fame. Lapointe was named to the American Baseball Coaches Association Hall of Fame in 1978, just the ninth New England Coach to be inducted.
In 1999, Sports Illustrated selected Lapointe 36th in its list of the Top 50 Vermont athletes of the 20th Century.