THE INDUCTEES

5TH CLASS-2017 INDUCTEES


4TH CLASS-2015 INDUCTEES


3RD CLASS-2014 INDUCTEES


2ND CLASS-2013 INDUCTEES


1ST CLASS-2012 INDUCTEES


NOMINATION FORM (PDF)


NOMINATION INFO & FAQS


INDUCTION DINNER INFO


ABOUT THE HALL

MISSION STATEMENT


BOARD OF DIRECTORS


SPONSORSHIP OPPORTUNITIES


VSHOF on FACEBOOK


RELATED LINKS


CONTACT US


HOME PAGE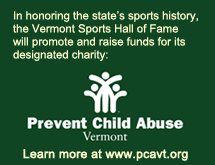 VERMONT SPORTS HALL OF FAME
Gretchen Scheuermann
Stowe
Field Hockey
Inducted 2013
The first field hockey player inducted into the Vermont Sports Hall of Fame, Gretchen Scheuermann starred at Stowe High School before going on to become the nation's top collegiate field hockey player in 1994.
After leading the Raiders to a state title under legendary coach Bev Osterberg and graduating from Stowe High in 1991, she went on to excel at Northwestern University where she was a four-year starter helping the team to three trips to the NCAA Tournament. An excellent offensive player, Scheuermann tallied 48 goals and 114 points in four seasons, leading the team in goals and points as a junior and senior. An All-American in 1993 and 1994. Scheuermann was named the Big Ten Player of the Year and Offensive Player of the Year as a senior in 1994 as the Wildcats won the Big Ten regular season title and reached the NCAA Final Four. She also was named to the NCAA Final Four All-Tournament Team.
Scheuermann capped her stellar career by winning the the 1994 Honda Broderick Cup Award as the National Field Hockey Player of the Year, field hockey's version of the Heisman Trophy. She was also a finalist for the Suzy Favor Award as the Big Ten Athlete of the Year.
She later was a member of the U.S. national field hockey team for two years and was inducted into the Northwestern Athletic Hall of Fame in 2000.
Scheuermann is currently a LPGA teaching and club professional in Virginia. She is the granddaughter of former Vermont Amateur golf champion Leslie Mercer and is the daughter of a retired LPGA golfer, Anne Marie Scheuermann.