THE INDUCTEES

5TH CLASS-2017 INDUCTEES


4TH CLASS-2015 INDUCTEES


3RD CLASS-2014 INDUCTEES


2ND CLASS-2013 INDUCTEES


1ST CLASS-2012 INDUCTEES


NOMINATION FORM (PDF)


NOMINATION INFO & FAQS


INDUCTION DINNER INFO


ABOUT THE HALL

MISSION STATEMENT


BOARD OF DIRECTORS


SPONSORSHIP OPPORTUNITIES


VSHOF on FACEBOOK


RELATED LINKS


CONTACT US


HOME PAGE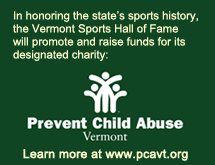 VERMONT SPORTS HALL OF FAME
Shelley Addison Smith
Shaftsbury
Soccer
Inducted 2015
An outstanding soccer player at Mount Anthony Union High in Bennington and at the University of Vermont, Shelly Addison Smith was an All-American at both the high school and collegiate level. She has gone on to an exceptional collegiate coaching career including at the University of South Carolina in the powerful SEC since 2001.
In high school she helped lead Mt. Anthony to back-to-back trips to the state championship game including its first-ever Division I state title in 1987 as a junior. She was named first team all-state three times and was a NSCAA All-American her last two seasons. In her final three years the Patriots were twice unbeaten in the regular season and compiled a 46-3-0 mark.
Addison Smith went on to flourish at UVM where she was a two-time All-New England selection and three times a first-team All-North Atlantic Conference pick. She started all 64 games for the Catamounts never missing a match in her four years. A defender in her first two years, Smith moved up to midfield for her final two years and led the team in scoring in both 1992 and 1993 while serving as a team captain. Her last two seasons she also was a National Soccer Coaches Association of America (NSCAA) Northeast Regional All-American, earning a second-team selection as a junior and first-team honors as a senior.
After graduating from UVM, Addison Smith joined the coaching ranks and continued to play soccer until 2000. She played professionally for the Sheffield United Football Club in England in 1994, was a member of the Boston Renegades semi-pro team from 1996 to 2000, and was selected to the U.S. Soccer Region I amateur team in 1998. Elected captain of the Renegades in 2000, she was asked to try out for the WUSA, the upstart women's professional soccer league, but chose to focus on her coaching career.
She was an assistant at Dartmouth for three seasons before being named head coach at Atlantic-10 Rhode Island in 1997. She turned the Rams around from winning just two games her first season to 39 over the next three including a 15-4-1 mark in 2000 when she was named A-10 and New England Coach of the Year.
Addison Smith then moved to the South Carolina in 2001 where she has compiled a 169-99-39 (.610) record over the 13 seasons prior to 2015 with a pair of SEC Championships and eight trips to the NCAAs. She led the Gamecocks to the NCAA Quarterfinals in 2014 and Sweet 16 in 2010.