THE INDUCTEES

5TH CLASS-2017 INDUCTEES


4TH CLASS-2015 INDUCTEES


3RD CLASS-2014 INDUCTEES


2ND CLASS-2013 INDUCTEES


1ST CLASS-2012 INDUCTEES


NOMINATION FORM (PDF)


NOMINATION INFO & FAQS


INDUCTION DINNER INFO


ABOUT THE HALL

MISSION STATEMENT


BOARD OF DIRECTORS


SPONSORSHIP OPPORTUNITIES


VSHOF on FACEBOOK


RELATED LINKS


CONTACT US


HOME PAGE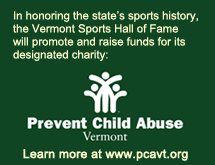 VERMONT SPORTS HALL OF FAME
Carl Christensen
Essex Junction
Soccer
Inducted 2015
An outstanding soccer player at Essex High and the University of Vermont, Carl Christensen was the Catamounts first-ever first team All-American, while earning first team all-conference honors in all four of his collegiate seasons. He is the first men's soccer player inducted into the VSHOF and also the first athlete from Essex High.
At Essex, Christensen was twice an all-state soccer selection and named to the all-New England team as a senior, when he also kicked for the Hornets football team and was named all-state in football as well. He also was a baseball standout at Essex and his last three seasons he was named to the all-state team.
He went on to be a four-year starter at back/defender for Vermont helping the Catamounts to 1975 Yankee Conference title and NCAA Tournament in 1975 and 1977. He was named to the All-Yankee Conference first team four times (1974-77) and three times he was on the All-New England first team (1975-77). He was named first team NSCAA All-American in 1976, the first Catamount to earn first team honors and the program's only All-American defender through 2015.
After college, he played professionally at the highest level in the United States. In 1978 and 1979 he played for the San Jose Earthquakes in the old North American Soccer League, equivalent to today's MLS, and for two seasons for the Wichita Wings of the indoor Major Indoor Soccer League (MISL).
Christensen went on to coach at UVM as an assistant for two seasons and then was the head coach at Tufts University for seven seasons between 1983 to 1989.
He was inducted into the UVM Athletic Hall of Fame in 1988, joining his father, Charles, a longtime UVM coach and physical education instructor. In 1999 Sports Illustrated ranked Christensen 28th in its list of the 'Top 50 Sports Figures From Vermont'.