THE INDUCTEES

5TH CLASS-2017 INDUCTEES


4TH CLASS-2015 INDUCTEES


3RD CLASS-2014 INDUCTEES


2ND CLASS-2013 INDUCTEES


1ST CLASS-2012 INDUCTEES


NOMINATION FORM (PDF)


NOMINATION INFO & FAQS


INDUCTION DINNER INFO


ABOUT THE HALL

MISSION STATEMENT


BOARD OF DIRECTORS


SPONSORSHIP OPPORTUNITIES


VSHOF on FACEBOOK


RELATED LINKS


CONTACT US


HOME PAGE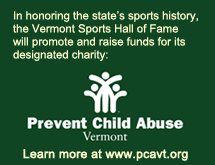 VERMONT SPORTS HALL OF FAME
Mona Garone
Bradford
Contributor/Coach (basketball)
Inducted 2015
In 36 years as a basketball coach at Bradford Academy and Oxbow High, Mona Garone raised and set the bar for girls high school basketball in Vermont, especially in the Upper Valley region of the state.
She is one of three Vermont girl's basketball coaches to win over 500 games and her teams made 31 final four appearances, 18 trips to the finals and captured 10 state championships. Her teams also won 14 league titles and she had five undefeated seasons. Starting with a 23-0 mark and a state title in 1984-85 to midway through the 1987-88 season, Oxbow won a state-record 74 straight games.
Garone was the recipient of many state, regional and national basketball coach of the year awards. She was also one of the coaches in the 1994 Kodak National Girls High School All-American Game in Jackson, Tenn. sponsored by the Women's Basketball Coaches Association.
Several of her players went on to play in college at all levels including 2014 Vermont Sports Hall of Fame Inductee Jade Huntington, who starred at Vanderbilt.
She also was Oxbow's first field hockey coach leading the program for many years winning two Division III state titles and sharing another in D-II.
A graduate of Lyndon State, she was named to its athletic hall of fame in 1999. She also is member of the Vermont Basketball Coaches Association Hall of Fame, the New England Basketball Hall of Fame and was an inaugural inductee into the VPA Hall of Fame in 2003. She also served many years as the Oxbow Athletic Director and in 1995 she earned the Vermont State Award of Merit by the VSADA.
Garone passed away in 1998 but her legacy lives on at her school and throughout the state. The Oxbow High gym is named the Mona Garone Gymnasium and the state's award for basketball sportsmanship is named in her honor.