THE INDUCTEES

5TH CLASS-2017 INDUCTEES


4TH CLASS-2015 INDUCTEES


3RD CLASS-2014 INDUCTEES


2ND CLASS-2013 INDUCTEES


1ST CLASS-2012 INDUCTEES


NOMINATION FORM (PDF)


NOMINATION INFO & FAQS


INDUCTION DINNER INFO


ABOUT THE HALL

MISSION STATEMENT


BOARD OF DIRECTORS


SPONSORSHIP OPPORTUNITIES


VSHOF on FACEBOOK


RELATED LINKS


CONTACT US


HOME PAGE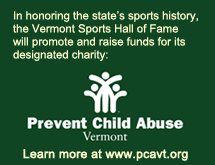 VERMONT SPORTS HALL OF FAME
Tom Lawson
Proctor/Middlebury
Contributor/Coach/Administrator
Inducted 2015
A longtime coach and administrator in Vermont for over four decades, Tom Lawson coached championship teams at the high school and collegiate level, and went on to help develop one of the nation's top NCAA Division III athletic programs at Middlebury College.
After starting as a coach at Craftsbury Academy, Lawson spent six years in the 1960s coaching at Proctor High School, where his teams became "legendary" in the words of Rutland Herald sports writer Dave Morse. His Proctor High soccer teams had a 52-game winning streak, won six Marble Valley League titles and four Class M state championships. Lawson's Phantoms basketball squads also won three state titles in his last four years at the helm. He was also honored by the Rutland Downtown Athletic Club for outstanding service to the youth of the Rutland Region.
Lawson moved from Proctor High to Middlebury College in the fall of 1969 where he would spend close to 30 years , retiring in the summer of 1997. He became the Panthers men's soccer coach in the 1969 season and the head men's basketball coach in 1970-71. He would replace a pair of coaches that would go on to national prominence, Joe Morrone in men's soccer at UConn, and Gary Walters, in hoops at Dartmouth and Providence, and as the AD at Princeton.
In his time at Middlebury, Lawson spent 20 years as the school's director of athletics, after leaving the sidelines. He earned a 48-26-8 mark in eight years as the men's soccer coach, boasting a 9-0-1 team in 1972 and an 11-1 squad in 1973. His soccer teams reached the NCAAs in 1970 and the ECAC Quarterfinals in 1973. He also served as the head coach of the men's basketball program for eight years compiling a 107-81 record. His 1974-75 Panthers won a then-school record 17 games (17-8) and earned Middlebury's first-ever postseason bid finishing third in the ECAC tournament.
During his tenure as Middlebury's director of athletics, Lawson's leadership resulted in an athletic program consisting of 26 intercollegiate sports (at the time) for men and women, but mostly for men. Seven women's intercollegiate sports programs came into existence since he became athletic director, and overall student participation grew dramatically. He was also instrumental in the dramatic enhancement of Middlebury's athletic facilities.
According to former Middlebury president John McCardell, Jr., "During his remarkable 27-year career at Middlebury, Lawson worked consistently, quietly, and with dedication to create one of the finest and most successful collegiate athletic programs in the country. His vision of what athletics at Middlebury can and should be contributed in important ways to the extraordinary quality of the school."
He was named to the New England Basketball Hall of Fame in 2006 and won the Vermont Distinguished Service Award given by the VSADA (high school ADs) in 1997. In 2007 Lawson won one of the ECAC's highest honors, the James Lynah Award for distinguished achievement.