THE INDUCTEES

5TH CLASS-2017 INDUCTEES


4TH CLASS-2015 INDUCTEES


3RD CLASS-2014 INDUCTEES


2ND CLASS-2013 INDUCTEES


1ST CLASS-2012 INDUCTEES


NOMINATION FORM (PDF)


NOMINATION INFO & FAQS


INDUCTION DINNER INFO


ABOUT THE HALL

MISSION STATEMENT


BOARD OF DIRECTORS


SPONSORSHIP OPPORTUNITIES


VSHOF on FACEBOOK


RELATED LINKS


CONTACT US


HOME PAGE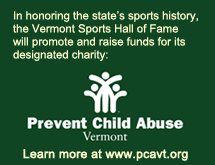 VERMONT SPORTS HALL OF FAME
Jack Leggett
South Burlington
Athlete (multi-sport)/Coach (baseball)
Inducted 2015
One of the best-ever all-around athletes out of South Burlington High, Jack Leggett became a two-sport standout in college and went on to become a Hall of Fame collegiate baseball coach.
At SBHS Leggett was an outstanding three-sport athlete (baseball, basketball and football) earning all-state honors in each and led the Rebels to back-to-back state titles in both baseball (1971-72) and football (1970-71). On the court he was South Burlington's first 1,000-point scorer. He was named the top high school athlete in the state of Vermont in 1972 by the Vermont Sportswriters and Sportscasters Association. He is the first former Rebels student-athlete to be inducted into the VSHOF.
He went on to UMaine where he was a two-time All-Yankee Conference selection in football at both defensive back and place kicker, and twice was named All-Yankee Conference in baseball at second base. He was a captain of Maine's 1976 baseball team that finished fourth in the College World Series, earning NCAA all-regional honors.
He became the head baseball coach at UVM at age 23, then the youngest in the nation, beginning a 38-year head baseball coaching career at Vermont (five years), Western Carolina (nine) and Clemson (22). He compiled an overall mark of 1322-770 (.665), ranking 16th all-time in the NCAA in victories (after the 2015 season). His teams went to the NCAA Tournament 26 times with six of his Clemson squads advancing to the College World Series in Omaha. He is one of a handful of college coaches to lead a team to Omaha after playing in the CWS as a student-athlete.
While at UVM he was instrumental in the revival of the Northern League, a collegiate summer league with teams in Vermont and New Hampshire, and played the infield for the Burlington Expos. He also had a part in the renovation of historic Centennial Field, then the home of the Catamounts and three summer league teams.
As a coach in the South Leggett never forgot his Vermont roots giving many high school baseball players from the Green Mountain State a chance to play at programs that he built into national and regional powers. Several Vermont high school products under Leggett at Western Carolina and Clemson were drafted or signed by major league organizations including Matt and Todd Raleigh (Swanton), Kevin Bellomo (Rutland), Ron Huntington (Oxbow) and Casey Harman (South Burlington). He also coached several players that went on to the major leagues, the first being fellow VSHOF inductee Kirk McCaskill at UVM.
The son of UVM Athletic Hall of Fame coach Les Leggett, he is a member of the South Burlington High School Athletic Hall of Fame, the UMaine Athletic Hall of Fame, the Western Carolina Athletic Hall of Fame and the VPA Hall of Fame. He also was inducted into the American Baseball Coaches Association Hall of Fame in 2014, joining Ralph Lapointe as Vermonters in the ABCA Hall.