THE INDUCTEES

5TH CLASS-2017 INDUCTEES


4TH CLASS-2015 INDUCTEES


3RD CLASS-2014 INDUCTEES


2ND CLASS-2013 INDUCTEES


1ST CLASS-2012 INDUCTEES


NOMINATION FORM (PDF)


NOMINATION INFO & FAQS


INDUCTION DINNER INFO


ABOUT THE HALL

MISSION STATEMENT


BOARD OF DIRECTORS


SPONSORSHIP OPPORTUNITIES


VSHOF on FACEBOOK


RELATED LINKS


CONTACT US


HOME PAGE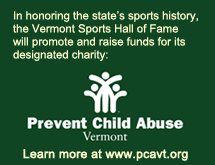 VERMONT SPORTS HALL OF FAME
Jim McCaffrey
Rutland
Basketball
Inducted 2015
An outstanding basketball player at Rutland High School, Saint Michael's College and the College of the Holy Cross, Jim McCaffrey was a tremendous scorer at all levels. He scored over 1,000 points for all three programs, playing just two seasons for each. He also was an NBA draft choice coming out of college in 1986, the last Vermont high school product to be selected by an NBA franchise.
He finished with 1,111 points in just two varsity seasons at Rutland and led the Red Raiders to back-to-back title game appearances at Patrick Gym. McCaffrey scored 55 points in a game for Rutland High against Hartford in 1981, a school-record and currently the fifth best in state history. That year he also had 48 points against Rice, a single-game state tournament record. He was an all-state selection as a senior after averaging 30 points per game.
An excellent shooter, McCaffrey played in high school and collegiately prior to the three-point shot.
He spent two years at Division II St. Michael's leading the Purple Knights in scoring as a freshman (12.9 ppg) and as a sophomore (21.0 ppg) before transfering to Division I Holy Cross. He led Holy Cross in each of two seasons he played there, averaging 21.6 ppg and 22.8 ppg, ranking 10th in the Crusaders single-season record book. He finished with 1,178 points in two seasons at Holy Cross. McCaffrey was a two-time all-Metro Atlantic Athletic Conference first-team selection and the MVP of the MAAC Tournament as a senior in 1986. In a home game against Iona in 1985 he scored 45 points to set the Hart Center scoring record.
McCaffrey was drafted in the sixth round of the 1986 NBA Draft by the Phoenix Suns and also went to the Boston Celtics summer camp. He is a member of the Holy Cross Athletic Hall of Fame and the New England Basketball Hall of Fame.