THE INDUCTEES

5TH CLASS-2017 INDUCTEES


4TH CLASS-2015 INDUCTEES


3RD CLASS-2014 INDUCTEES


2ND CLASS-2013 INDUCTEES


1ST CLASS-2012 INDUCTEES


NOMINATION FORM (PDF)


NOMINATION INFO & FAQS


INDUCTION DINNER INFO


ABOUT THE HALL

MISSION STATEMENT


BOARD OF DIRECTORS


SPONSORSHIP OPPORTUNITIES


VSHOF on FACEBOOK


RELATED LINKS


CONTACT US


HOME PAGE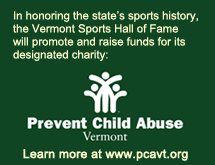 VERMONT SPORTS HALL OF FAME
Bev Osterberg
Stowe
Contributor/Coach
Inducted 2015
Few coaches have been more successful in Vermont high school sports than the former Stowe High School field hockey and girl's basketball coach, Bev Osterberg, a member of the Vermont Principals Association and the New England Women's Sports Halls of Fame.
Osterberg is one of five coaches nationwide to coach 500 high school victories and she led the Raiders to 28 title game appearances and 16 state championships in her 44 years. Until her coaching career ended in 2011, she had only one losing season and along the way recorded a 47-game unbeaten streak that ended in 2007. Her teams reached the title game in each of her last nine seasons.
Among the many former Raiders who went on to play collegiate field hockey was 2013 VSHOF inductee Gretchen Schuermann, who was the 1994 National Player of the Year at Big 10 Northwestern.
She also coached the Stowe girls basketball team for 34 years winning 346 games and a pair of state championships. She also was the softball coach at Peoples Academy in Morrisville for four years before coaching the Raiders for another eight. She also coached tennis at Stowe for three seasons, winning two state team titles and a New England crown.
'Miss O', as her players and students affectionately call her, was an athletic standout at Williamstown High School and Castleton University before joining the Stowe High School staff, founding the field hockey program in 1967.
The field hockey field at Stowe High School bears her name. A member of the Castleton University Sports Hall of Fame, she was also given the VSSA Coaching Achievement Award in 2006.