THE INDUCTEES

5TH CLASS-2017 INDUCTEES


4TH CLASS-2015 INDUCTEES


3RD CLASS-2014 INDUCTEES


2ND CLASS-2013 INDUCTEES


1ST CLASS-2012 INDUCTEES


NOMINATION FORM (PDF)


NOMINATION INFO & FAQS


INDUCTION DINNER INFO


ABOUT THE HALL

MISSION STATEMENT


BOARD OF DIRECTORS


SPONSORSHIP OPPORTUNITIES


VSHOF on FACEBOOK


RELATED LINKS


CONTACT US


HOME PAGE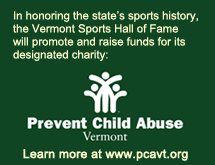 VERMONT SPORTS HALL OF FAME
Laura Wilson Todd
Montpelier
Nordic Skiing
Inducted 2015
A two-time Olympian, Laura Wilson Todd was one of the all-time top UVM Nordic skiers. She was a four-time, first team All-American and the first skier, male or female, ever to win four NCAA individual championships, winning both the freestyle and classical Nordic races in the 1990 and 1991 NCAAs.
After converting from Alpine to Nordic prior to college, she won four U.S. Junior National titles before her sophomore year at UVM and as a junior in 1990 she went from a solid performer to dominance in the sport in the NCAA and U.S.
She won both NCAA Nordic events as the Catamounts won the 1990 NCAA team title and she was named female Skier of the Year by Ski Racing Magazine. As a senior she repeated in both NCAA Nordic events. She was the first and only skier from the East to win the 15K NCAA title until 2012. She was a finalist in 1992 for the prestigious NCAA Women of the Year Award.
After UVM she went on to win five U.S. Senior National titles and represented the United States in two Olympic games, in Lillehammer in 1994 and in Nagano in 1998. She competed in five events in her last Olympics in Nagano.
A member of the UVM Athletic Hall of Fame, Sports Illustrated selected Wilson 18th in its list of the Top 50 Vermont athletes of the 20th Century in 1999.