THE INDUCTEES

6TH CLASS-2018 INDUCTEES


5TH CLASS-2017 INDUCTEES


4TH CLASS-2015 INDUCTEES


3RD CLASS-2014 INDUCTEES


2ND CLASS-2013 INDUCTEES


1ST CLASS-2012 INDUCTEES


INDUCTION DINNER INFO


ABOUT THE HALL

MISSION STATEMENT


NOMINATION FORM (PDF)


NOMINATION INFO & FAQS


BOARD OF DIRECTORS


SPONSORSHIP OPPORTUNITIES


VSHOF on FACEBOOK


CONTACT US


HOME PAGE


RELATED LINKS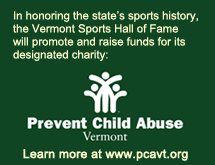 VERMONT SPORTS HALL OF FAME
Robby Crouch
Georgia/South Burlington
Stock Car Racing
Inducted 2018
The Tampa, Fla.-born Crouch, nicknamed the "Tampa Tornado" by Ken Squier, was one of the most successful stock car drivers in Vermont and the Northeastern United States and Canada for more than 40 years.
After beginning his career in Florida as a teenager in the late 1960s, Crouch began racing on the five-nights-a-week Northern NASCAR summer Late Model Sportsman circuit in 1972, running at Thunder Road in Barre, Catamount Stadium in Milton, Devil's Bowl Speedway in West Haven, Airborne Park Speedway in Plattsburgh, N.Y., and Sanair Speedway in Québec; his first win came that year at age 20 at Devil's Bowl.
Crouch became a permanent Vermont resident in 1979 - calling Georgia, Vt., home - and was a mainstay on the restructured NASCAR North Tour, capturing back-to-back championships in 1983-84. When NASCAR briefly left New England after 1985, Crouch dominated the new American-Canadian Tour for four championships in five years (1986-88, 1990). When the Tour ended after 1995, Crouch's combined 77 career Tour race wins doubled the mark of the next best record. During that period, he also won Thunder Road "King of the Road" honors three times (1983-84, 1986) as well as track championships at St-Félicien (Québec), Val-Bélair (Québec), and Claremont (N.H.). He also captured the highly competitive Oxford (Maine) Open Series title in 1986. When NASCAR returned, Crouch raced with the NASCAR Busch North Series, capturing eight victories from 1988-95.
Among his more than 100 career wins at 29 different northern tracks, Crouch owns a record four victories in the prestigious Vermont Milk Bowl, as well as seven in the New England 300/Fall Foliage 300, three Memorial Day Classics, four Vermont Governor's Cups, and two New Hampshire Governor's Cups.
He received the Don MacTavish Award for contributions to stock car racing in 1988 and was inducted into the New England Auto Racing Hall of Fame in 2006. Crouch retired from racing in 1997, then, after beating prostate cancer, returned to race in 2007. His final victory came at Thunder Road in 2008, and he drove in his last race at Oxford Plains Speedway in Maine in 2015. He currently lives in South Burlington.