THE INDUCTEES

6TH CLASS-2018 INDUCTEES


5TH CLASS-2017 INDUCTEES


4TH CLASS-2015 INDUCTEES


3RD CLASS-2014 INDUCTEES


2ND CLASS-2013 INDUCTEES


1ST CLASS-2012 INDUCTEES


INDUCTION DINNER INFO


ABOUT THE HALL

MISSION STATEMENT


NOMINATION FORM (PDF)


NOMINATION INFO & FAQS


BOARD OF DIRECTORS


SPONSORSHIP OPPORTUNITIES


VSHOF on FACEBOOK


CONTACT US


HOME PAGE


RELATED LINKS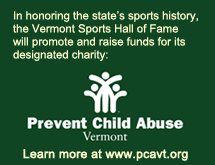 VERMONT SPORTS HALL OF FAME
Hilary Engisch Klein
Williston
Moguls Skiing
Inducted 2018
A standout soccer player for Champlain Valley Union High School and the University of Vermont, Hilary Engisch Klein was at the forefront of the non-traditional Alpine ski revolution, excelling as the best women's moguls skier in the world, prior to moguls becoming a Winter Olympics sport.
Engisch Klein was still a student at UVM when she won her first World Cup event in British Columbia. That began a career in which she dominated the World Cup mogul series in the late 1970s and early 1980s, reigning as the overall World Cup women's mogul champion four times. By the time she retired, she had 35 World Cup victories in a five-year span. Her record was so impressive that Ski magazine said she was "the greatest female mogul skier alive" and one "who routinely does things that most of us can only dream about."
Engisch Klein's career ended before the sport became an Olympics Winter Games event.
After nine years on the U.S. Freestyle Ski Team, Engisch Klein retired and co-authored a pre-eminent book of freestyle skiing, Freestyle Skiing. She remained involved in skiing, serving on the USSA board of directors and as a director of the Vermont Ski Training Foundation. She has been involved with Special Olympics and the March of Dimes and served as Honorary Chairperson of the Cystic Fibrosis Foundation ski-athon.
She has been named to the University of Vermont and Vermont Ski and Snowboard Museum halls of fame, and in 1999, Sports Illustrated named her No. 16 among Vermont's greatest athletes of the 20th century.
Prior to her moguls career, Engisch Klein was one of UVM's finest women's soccer players. She set a then-school career record of 35 goals in only three seasons. In 1979, Engisch Klein tallied a single-season record 21 goals and added six assists as the Catamounts finished third in the forerunner to the NCAAs, the EIAW championships.She is the founder and CEO of Kids On Top, a non-profit organization that provides fun and exciting winter experiences for children who have suffered from serious diseases.