THE INDUCTEES

6TH CLASS-2018 INDUCTEES


5TH CLASS-2017 INDUCTEES


4TH CLASS-2015 INDUCTEES


3RD CLASS-2014 INDUCTEES


2ND CLASS-2013 INDUCTEES


1ST CLASS-2012 INDUCTEES


INDUCTION DINNER INFO


ABOUT THE HALL

MISSION STATEMENT


NOMINATION FORM (PDF)


NOMINATION INFO & FAQS


BOARD OF DIRECTORS


SPONSORSHIP OPPORTUNITIES


VSHOF on FACEBOOK


CONTACT US


HOME PAGE


RELATED LINKS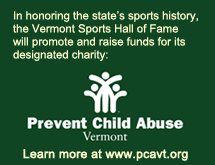 VERMONT SPORTS HALL OF FAME
Ray Frey
St. Johnsbury
Track and Field- coach
Inducted 2018
During his legendary 30-year coaching career at St. Johnsbury Academy, Frey directed his teams to a record 21 state championships in track and field as well as cross country. In addition, numerous student-athletes won individual track and field events with many setting state records.
Frey's most notable success came with the SJA boys track and field teams. The Hilltoppers won 16 state championships, including six in a row (from 1965 to 1970) and five in a row (1980 to 1984).
After he took over the girls track and field team, SJA would win four state titles.
Prior to his track and field success, Frey's first championship came with the boys cross country team in 1958, the school's first cross country state crown.
A teacher for 30 years at SJA, Frey also served as athletic director for 11 years and assistant headmaster for seven years. He also was instrumental with track and field and running events for the local junior Olympics and St. Johnsbury Recreation Department.
Frey was an outstanding multi-sport athlete at Fairleigh Dickinson University before his teaching and coaching career. He was named to the Vermont Principals Association Hall of Fame in 2008. The track and field facility at St. Johnsbury Academy was named in his honor in 2010.