THE INDUCTEES

6TH CLASS-2018 INDUCTEES


5TH CLASS-2017 INDUCTEES


4TH CLASS-2015 INDUCTEES


3RD CLASS-2014 INDUCTEES


2ND CLASS-2013 INDUCTEES


1ST CLASS-2012 INDUCTEES


INDUCTION DINNER INFO


ABOUT THE HALL

MISSION STATEMENT


NOMINATION FORM (PDF)


NOMINATION INFO & FAQS


BOARD OF DIRECTORS


SPONSORSHIP OPPORTUNITIES


VSHOF on FACEBOOK


CONTACT US


HOME PAGE


RELATED LINKS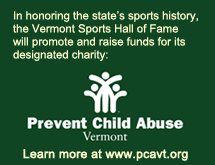 VERMONT SPORTS HALL OF FAME
Larry Killick
Burlington
Basketball
Inducted 2018
An outstanding high school and collegiate basketball player out of Burlington, Larry Killick is the first and only Vermont product drafted in the first round by an NBA team. The UVM and BHS alum was the first-round selection of the Baltimore Bullets, 10th overall, in 1947 of the BAA, later named the NBA. He played several exhibition games for the Bullets but did not play in the regular season (professional players at the time were not financially compensated like today).
He helped lead BHS to three straight state title game appearances (1939, 40, 41) including the 1941 Class L state championship. He began his standout UVM career in 1942-43 before joining the Marine Corps for WWII. He also spent 1943-44 at Dartmouth in the V-12 training program and led the Big Green in scoring during the regular season, a team that reached the title game of the NCAA Final Four. A decorated member of the Marines, he returned to UVM following the war and was the captain of the Catamounts, leading them to a 19-3 mark in 1946-47 scoring over 300 points in the 22 games. Vermont's 19 victories were a school-record until 2001-02. He scored 735 points in his UVM career, a school record at the time.
Killick was an inaugural inductee into the UVM Athletic Hall of Fame in 1969 and was selected to the New England Basketball Hall of Fame in 2006. Sports Illustrated selected Killick 25th on its list of the Top 50 Vermont athletes of the 20th Century in 1999.
Killick passed away in 2013 at the age of 90.