THE INDUCTEES

6TH CLASS-2018 INDUCTEES


5TH CLASS-2017 INDUCTEES


4TH CLASS-2015 INDUCTEES


3RD CLASS-2014 INDUCTEES


2ND CLASS-2013 INDUCTEES


1ST CLASS-2012 INDUCTEES


INDUCTION DINNER INFO


ABOUT THE HALL

MISSION STATEMENT


NOMINATION FORM (PDF)


NOMINATION INFO & FAQS


BOARD OF DIRECTORS


SPONSORSHIP OPPORTUNITIES


VSHOF on FACEBOOK


CONTACT US


HOME PAGE


RELATED LINKS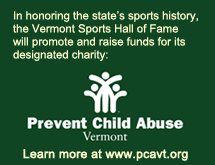 VERMONT SPORTS HALL OF FAME
Melba Masse
Essex
Athlete/Coach/Contributor
Inducted 2018
Melba Masse was a pioneer for women in sports long before Title IX happened. She is best known for her 50 years at Essex High School following her 1954 graduation from Johnson State Teachers College, where she was a basketball standout. Masse had been a hoop star at nearby Cambridge High School.
Essex Junction hired Masse to teach physical education, which she did for 36 years. She coached several sports and later served as athletic director and then as administrative assistant to the athletic director. She retired in 2005. Masse also played an important role in the development of high school athletics across the state.
Early in her career at Essex, Masse coached basketball and cheerleading. When the current high school was built, Masse was asked to start a field hockey program, a sport she never had played, as well as softball. She coached field hockey for 11 years (record of 96-40-21), softball for 10 years (posted over 100 wins) and basketball for 15 years. Many of her teams won league championships and state championships.
She was a founding member of the Northern Vermont Athletic Conference and was its Executive Secretary for nearly four decades. She still administers the NVAC scheduling. She also has served as the Executive Secretary for the Vermont Hockey League. She has earned the honorary title of "Queen of the Master Schedules" for compiling schedules for various sports at the 38 NVAC schools.
She has served on many committees for the Vermont State Athletic Directors Association and Vermont Principals Association, organizing and administering championship tournament events. Masse was a co-founder of the highly successful Vermont Student Athletic Leadership Conference for the last 24 years. She has been active with the National Interscholastic Athletic Association.
Her many awards and honors include: Johnson State College Hall of Fame; NIAA Vermont State Award of Merit; Vermont Principal's Association Hall of Fame (inaugural class); New Agenda Northeast Women's Hall of Fame; Vermont Sportscasters and Sportswriters Ralph Lapointe Award; and the VSADA Distinguished Service Award.